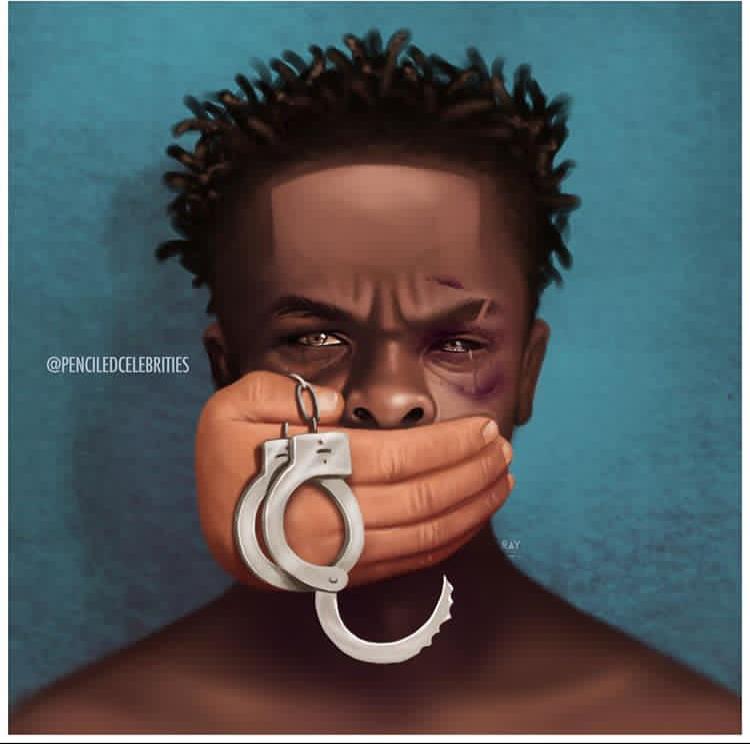 Kunle with tears in his eyes lowered his gaze and sighed heavily, he again raised his face only to catch the persuasive stare on the face of his lawyer.
Barrister Will eventually broke the silence between himself and Kunle as he said his final words of their meeting "Adekunle, I want to help you but the only way I can do this is for you to tell me the complete truth and I will take it from there. I will stop by tomorrow but I need you to sleep over it, until then, bye!"
The lawyer wore a grim look as he walked away while the police came in and took Kunle back into the cell. Kunle could not believe his luck, never would he have imagined a life with criminals in the same confinement – having to wail, wine, dine and wrestle with them.
Just in that moment, he reminisced as he thought about the times when he secluded himself from people, how much of an introvert he was, how he use to be every girls' dream guy, his love life and how amazing everything was before it all fell apart.
Kunle is no longer a stranger to sleeplessness, he's barely sleep for nights now but when nature truly calls, you can really not deny such calls and so he yielded to this very call but it didn't last for long as the sound of his new neighbors – inmates, woke him up "Hey Rapist, wake up".
Rapist has become his new moniker within this confinement, one that saddens him but felt good for his new neighbors because for them, your crime becomes your identity, ADEKUNLE is not even a name they knew. Quickly, he stood up, looking pale and lanky, not only has he been sleepless, he hasn't had food too.
"Bloody rapist, no dey form for us o, we know your story" this was the statement from one of the inmates as he laughed aloud, and in quick repartee another interjected, "Konji nah bastard, you carry innocent girl enter room, you wan rape am? they for don kill you, no dey form good boy o, werey boy"
Poor Kunle , he couldn't mutter a word. Not too long after, he was told that his mum was around to see him. He was reluctant to go because he couldn't stand her tears, for her, the tears flowed easily having to watch her son in so much disappointment, he had no choice but to honour her visit.
He stepped out and he saw his pretty fiancèe with his mother, "Iya Kunle" as he fondly calls her, started crying "look at you, you have not been eating, don't worry you will come out soon". Kunle couldn't say a word. He looked at his fiancèe Tina who gave him a stern look as she cut in quickly, "Kunle I'm just here to tell you that I am done with this relationship, after seeing the girl you tried to rape, the bruise on her face, I concluded painfully that I have been dating a monster, bye!"
Tina walked out and Iya Kunle was just there looking at her son, the sadness was well written all over her and her shabby look didn't do well to conceal her despondence. Kunle was just there looking haplessly, he wanted to follow the love of his life but he could not. His mother told him she would see Moji – the girl Kunle was accused of Raping. I have gotten her address, I would visit her and plead with her and her parents to drop their charges, you will get out of here soon, you will not go to jail
"Mum, I know nothing about this accusations, if you can't believe me who would? Mum the only person I want you to beg is Tina, I need her most now, her trust in me, her love for me."
He couldn't finish his words for they have used more than the allotted time already, the police came in and took him back to the cell.
Iya Kunle left the station in tears as she left for Moji's house. She arrived there and luckily, she met Moji's mother right in front of their house. Kunle's mum didn't say a word, she quickly fell on her knees crying and asking for forgiveness, she held onto Moji's mum, but she was embarrassed, she was treated like a piece of filth. "You failed to train him and we will train him for you, he tried to rape my precious daughter, in his next life he wouldn't try that again"
Moji's mum walked out leaving Iya Kunle on her knees, Moji saw everything that played out then she gave a wry smile. Linda who is Moji's close friend was also there to witness this scene, she was obviously not happy with how Iya Kunle was treated, she looked so sad and with suspicion on her face.
Later that day, Linda couldn't blink, she looked straight at the ceiling, thinking about what played out with Iya Kunle at her friend's place. She sighed and nodded her head like someone who has devised a plan known only to her.
Linda woke up very early and went straight to Kunle's house, she was in tears looking remorseful and so dejected. She was welcomed by Iya Kunle who before then didn't know who this young crying lady was.
She introduced herself as Linda, Moji's friend, Iya Kunle was both surprised and confused to see Moji's friend. Immediately she knelt down, "I'm sorry for what my son did to Moji, I don't know why he tried to rape the young lady I'm sorry please help me beg your friend, he has no father, it's just the two of us only, please my daughter"
Linda began even as she stuttered, "I'm sorry you had to go through this because of my silence, I know I deserve to be punished but I'm going to say everything"
Linda paused for a while to wipe the tears already streaming down her cheeks, then she continued
"Kunle is a gentle guy, cute, tall and handsome, his dark skin glows like the early morning sun, he's charming, charismatic and he is a nice guy"
Iya Kunle at this point listened keenly to Linda, she watched this young lady as she wiped her tears, she moved closer to Linda and then patted her back, my daughter I'm all ears.
Iya, Linda said "Moji had a crush on Kunle, her crush turned into obsession, then she started to stalk Kunle, she approached Kunle as a friend, they became friends until Kunle introduced Moji to his Fiancèe, Moji started thinking of ways to break them up, but everything she tried proved futile"
Iya Kunle wanted to get to the root of the matter, she put her emotions aside and listened normally like a stoic person would, unfortunately Linda said she couldn't go on with the story but Iya Kunle persuaded her to.
"Moji expressed her feelings for Kunle, sadly, she was friend zoned! She started looking for plans to get him. She arrived at a conclusion that if Kunle would not be hers, then he can't be with anyone else"
"On this fateful afternoon, she visited Kunle with a devilish plan known to she and I " she broke down in tears, she was wailing and crying like a baby.
"Iya, I'm sorry, I was part of everything, I also had a secret crush on Kunle, Moji went to Kunle's place with everything all scripted, unknown to Kunle."
Moji entered Kunle's room, she started undressing herself, this was strange to Kunle, Moji hit her head against the wall so she would have those bruises to make the story real, before Kunle could do anything, she started screaming while holding Kunle, help me, rape! rape!! rape!!!"
"Every struggle by Kunle, looked like he was trying to rape Moji, people broke into the room with an attempt to rescue Moji. Hmmmm, Kunle was arrested and Moji was taken to a hospital before she then returned home
Iya! Adekunle knew nothing about this rape saga, he was falsely accused, I'm sorry, and I'm ready to do anything to get him out. I have recordings of Moji's voice, I have good evidences to prove his innocence. I'm deeply sorry!"
Iya Kunle screamed "Oluwa o". God! Forgive me for not believing my son. Ah! God have mercy on my son, let him get out of this."
Linda was also in tears with no one to pet them, Linda handed every evidence to iya Kunle.
Iya Kunle was also smart enough to record Linda's voice. She later handed everything over to Lawyer Will.
The lawyer took necessary steps, Kunle was released and Moji was arraigned in court.
END
We all Know Kunle, there are many Kunles out there who were wrongly accused of rape with no one to get them out, the stories are just too real to be lies, so how do we get them out?
While showing support to those girls, let us look at the men side too.
We can do this without shaming the victims .
Story : Sharon Aluku
Written by Khair