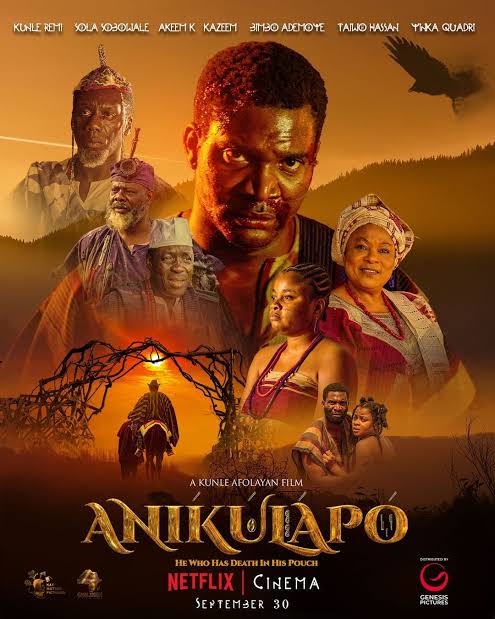 Hi guys, I am here again with my movie review, this is supposed to be a birthday post but I want to share the Anikulapo Movie review first.
So I was at the cinema on October 1st with bobo to see the movie, trust me; I have been anticipating the movie since I saw the trailer and the cast.
Anikulapo is a movie by Kunle Afolayan, it came out on September 30th, 2022 which also happened to be my birthday.
Anikulapo is an epic movie that is centred around love, betrayal, power and many things.
The movie is about a young handsome Yoruba man named Saro, who came to Oyo Town in search of a greener pasture.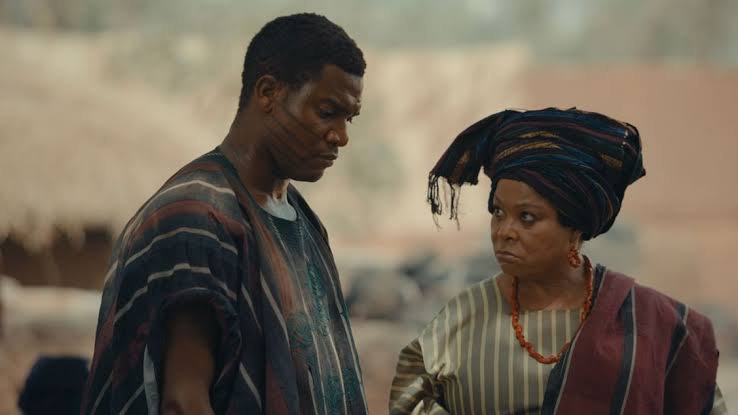 He met an older woman, Awarun who was like his host and also his sex partner (Sugar Mommy), Awarun set him up and he started weaving ofi, which is his work, He is good at what he does and he was referred to the palace by his beloved Awarun.
Saro met with the queens and they all loved his work, Saro's work did not only caught their attention but the princess was also attracted to him.
Saro met with the king's favourite wife, Arolake who happened to be hated by her co-wives for the obvious reason.
It was love at first sight for Saro or should we call it Lust? Do you smell trouble? Saro was eyeing the King's wife and that is the beginning of the heat.
Arolake, the King's younger wife has faced a lot of predicaments in the palace because of the hatred of her fellow queens, she was even poisoned.
Arolake was also attracted to Saro and one thing led to the other. Arolake made move and she started having affairs with the young man.
Their little secret got exposed after Princess Omowunmi, who is also in love with Saro caught them just before they elope.
This led to the death of Saro, Arolake who had initially left the palace, was with Saro's dead body when a mystical bird, AKALA resurrected Saro…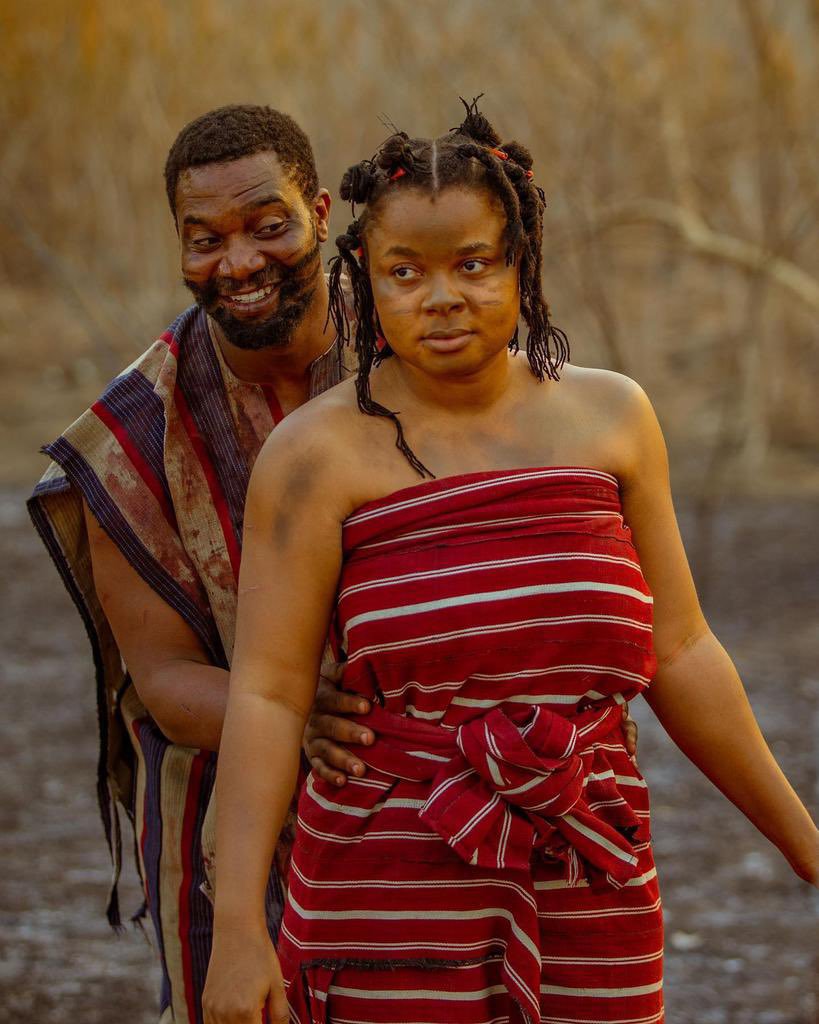 Let's leave it here so I don't post all the spoilers but trust me a lot happened after this and this is where Anikulapo story began.
The Anikulapo Movie Review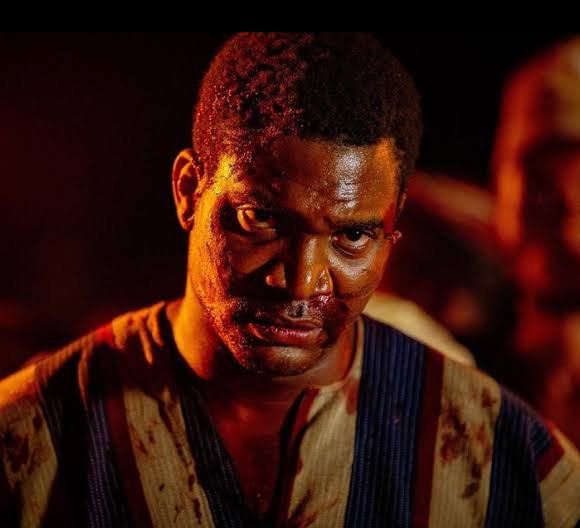 STORYLINE
Every scene was necessary, the order is great and the continuity is superb. The scenes are linked together and you will enjoy everything about the story.
Costume
There's a great cultural display with the attires. Yoruba culture is indeed beautiful!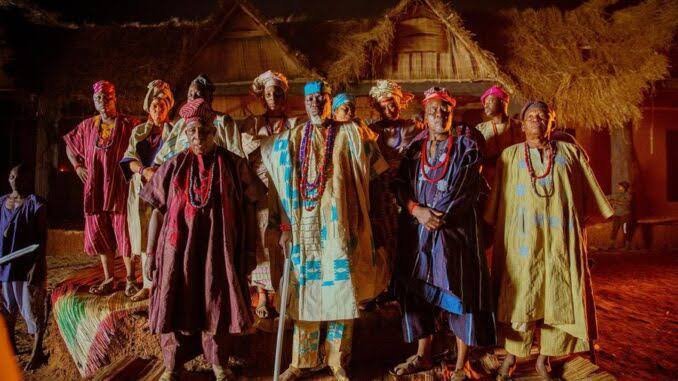 The kings have the powerful look, with their crowns and sceptres, you would know a rich person from a pauper with their distinct looks.
They used different ofis, and with the ofi, you will know the difference in the royal family, the ijoyes and a commoner.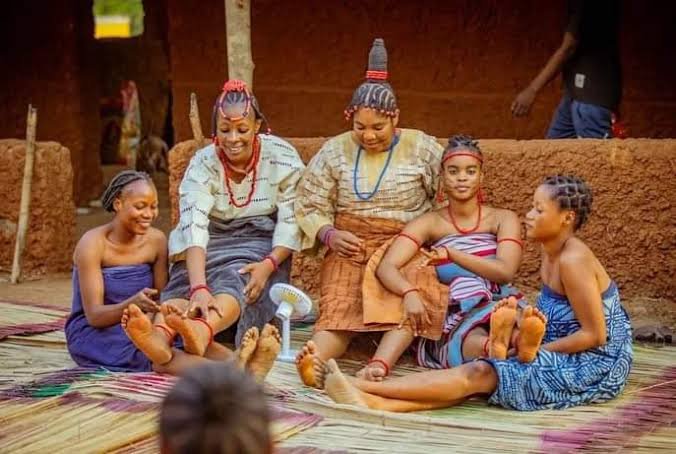 By their expensive-looking beads, you will know the queens and princesses, they don't look like a commoner and you will rarely see a commoner with beads except if you are from the royal family or Ijoye.
The switch from when Arolake was a queen and a commoner is worth noting, there is a change.
Also, Saro has this distinct Yoruba man's look.
PROPS
They went all out to use olden days props, from plates to jewellery, to boxes, cooking, foods and others. Everything was archaic, you sometimes wonder, How did they get this? Lol.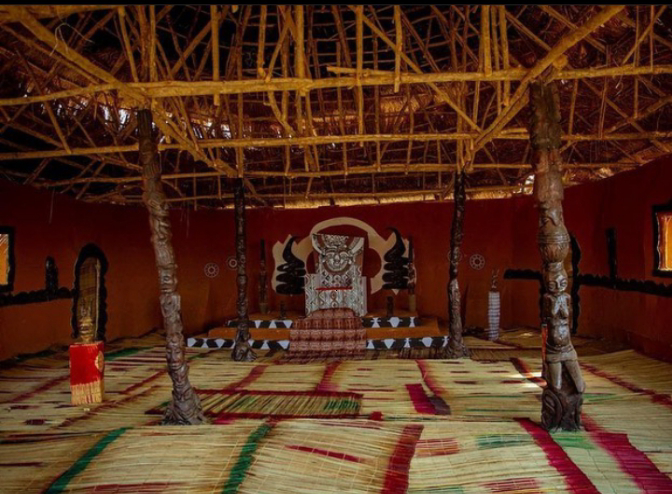 You can easily tell that they built the mud houses just for the movie. Creative!!! You can see the crew went all out to portray the rich culture and tradition.
MAKEUP
I give it to the brain behind the make-up! Everything was on point. The tribal marks look so real and beautiful on them. Knowing most of these actors do not have tribal marks will make you appreciate the good work done.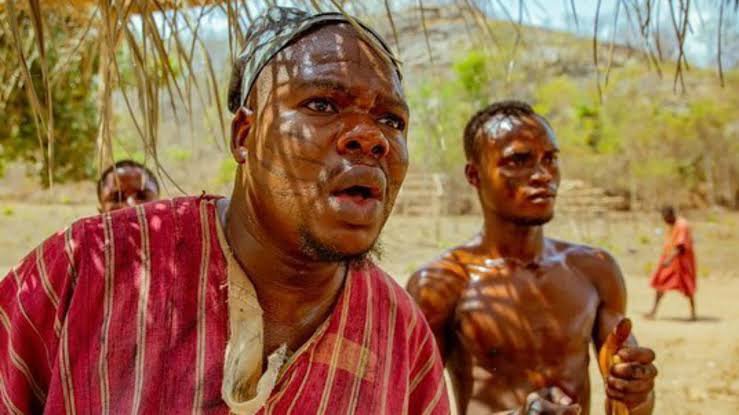 The tribal marks fit their faces perfectly and also their skin tones, there was no heavy makeup, everything is moderate.
The hairs look so beautiful, from koroba to suku to different hairstyles.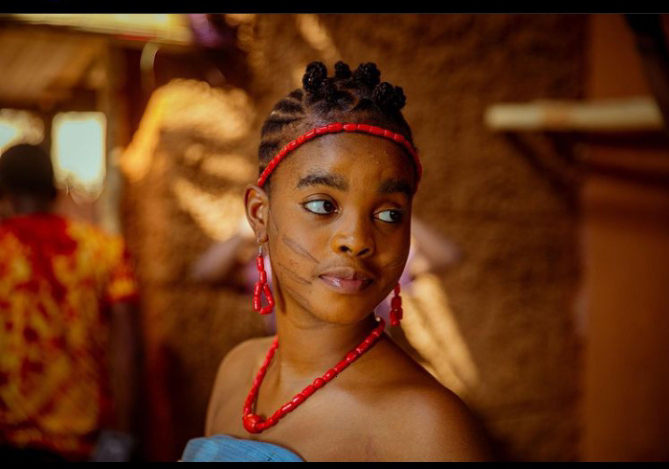 MUSIC!
The music fit the story perfectly, and I love how it's about each scene, the lyrical content is deep and easy to resonate with. The music talks about arrogance, pride, contentment and many more.
Characters.
The casting of Anikulapo is perfect! I love the fact that Kunle Afolayan doesn't centre his movies around himself, unlike some producers. He is willing to give the lead roles to those who fit those roles perfectly.
Kunle Remi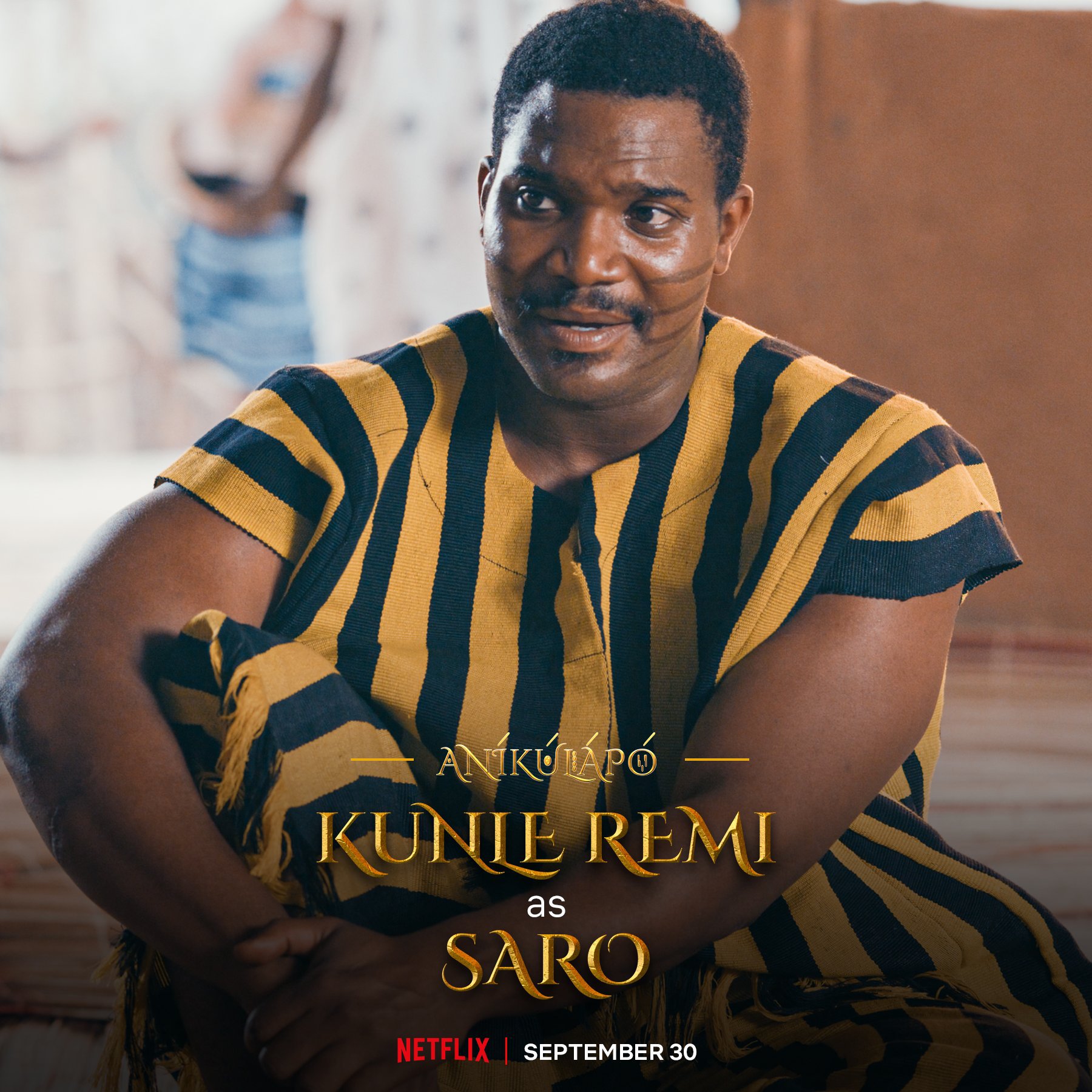 Kunle Remi played the SARO very well. He got into character and delivered his role as he should. His acting is solid.
From Saro Also Oke to Anikulapo and a Yoruba demon, he did a top-notch job.
Bimbo Ademoye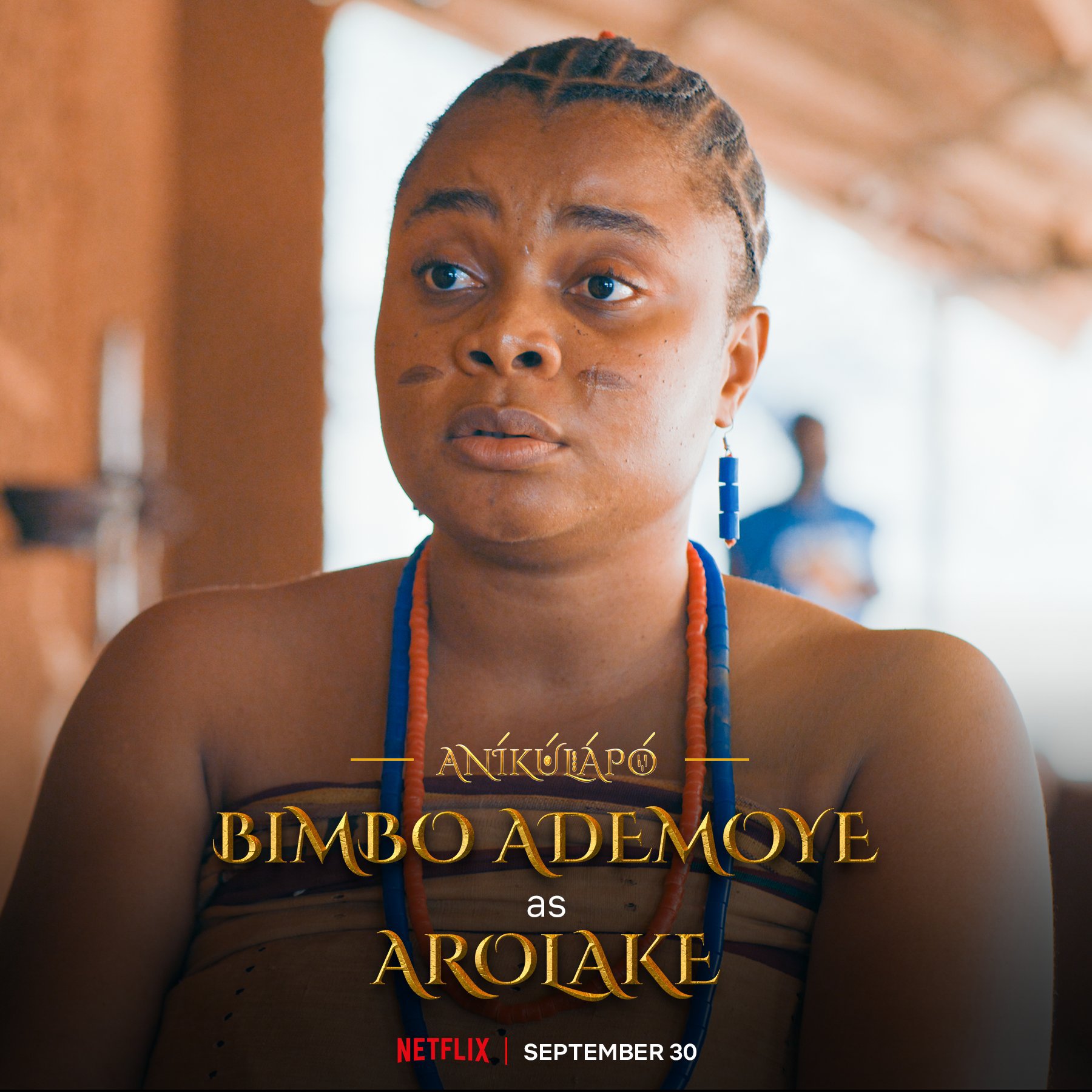 Bimbo Ademoye is the perfect cast for AROLAKE, she did a good job playing that role and switching characters from that innocent young wife to luring the king to her chamber when it was another wife's turn.
How she became the promiscuous wife who is ready to go extra mile for Saro.
Also when she became the eldest wife and how everything panned out, her facial expression, the emotions came out well. She indeed interpreted the role.
Taiwo Hassan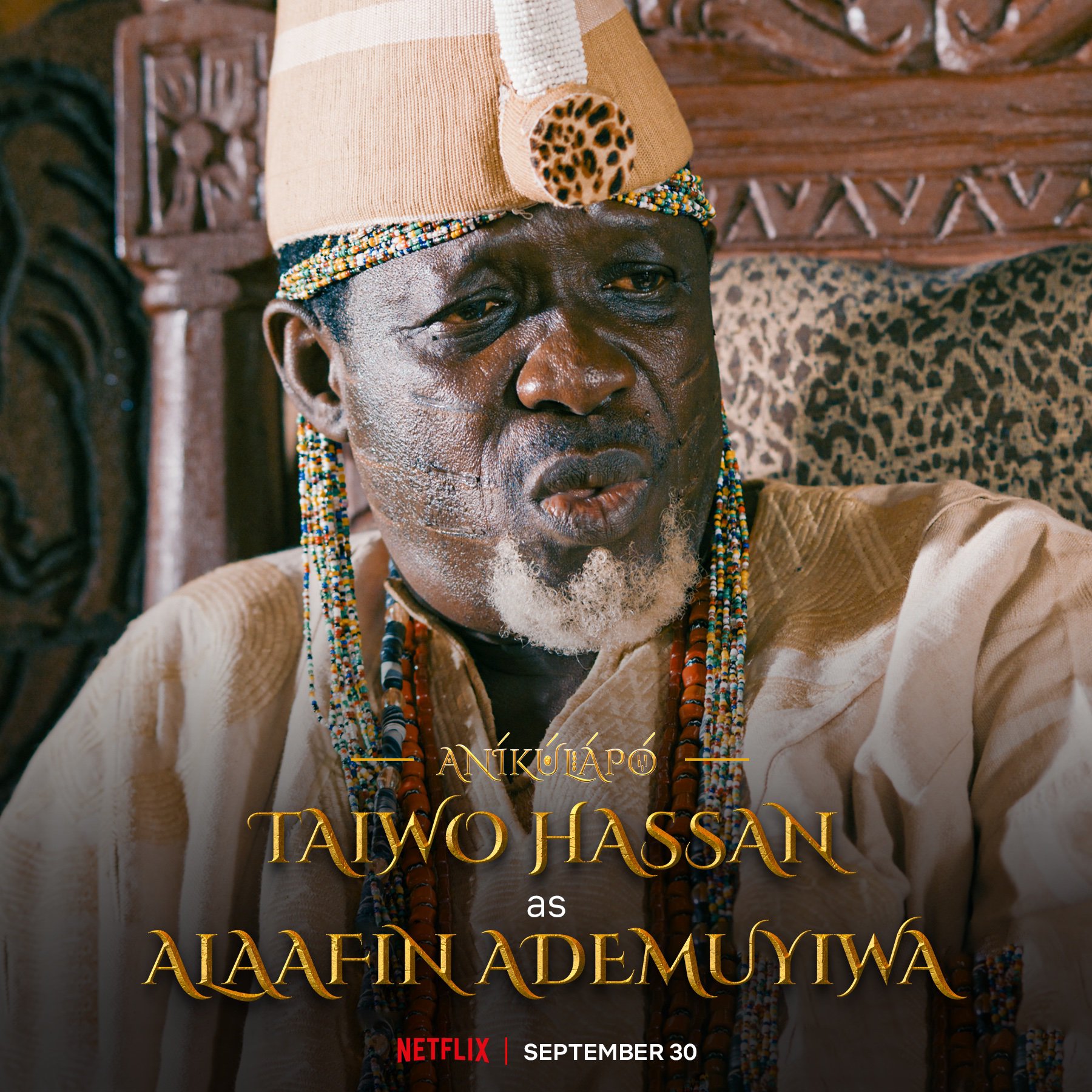 Taiwo Hassan as Alaafin Ademuyiwa, I was impressed to see him act that role, he simply did well.
Hakeem Kae Kazeem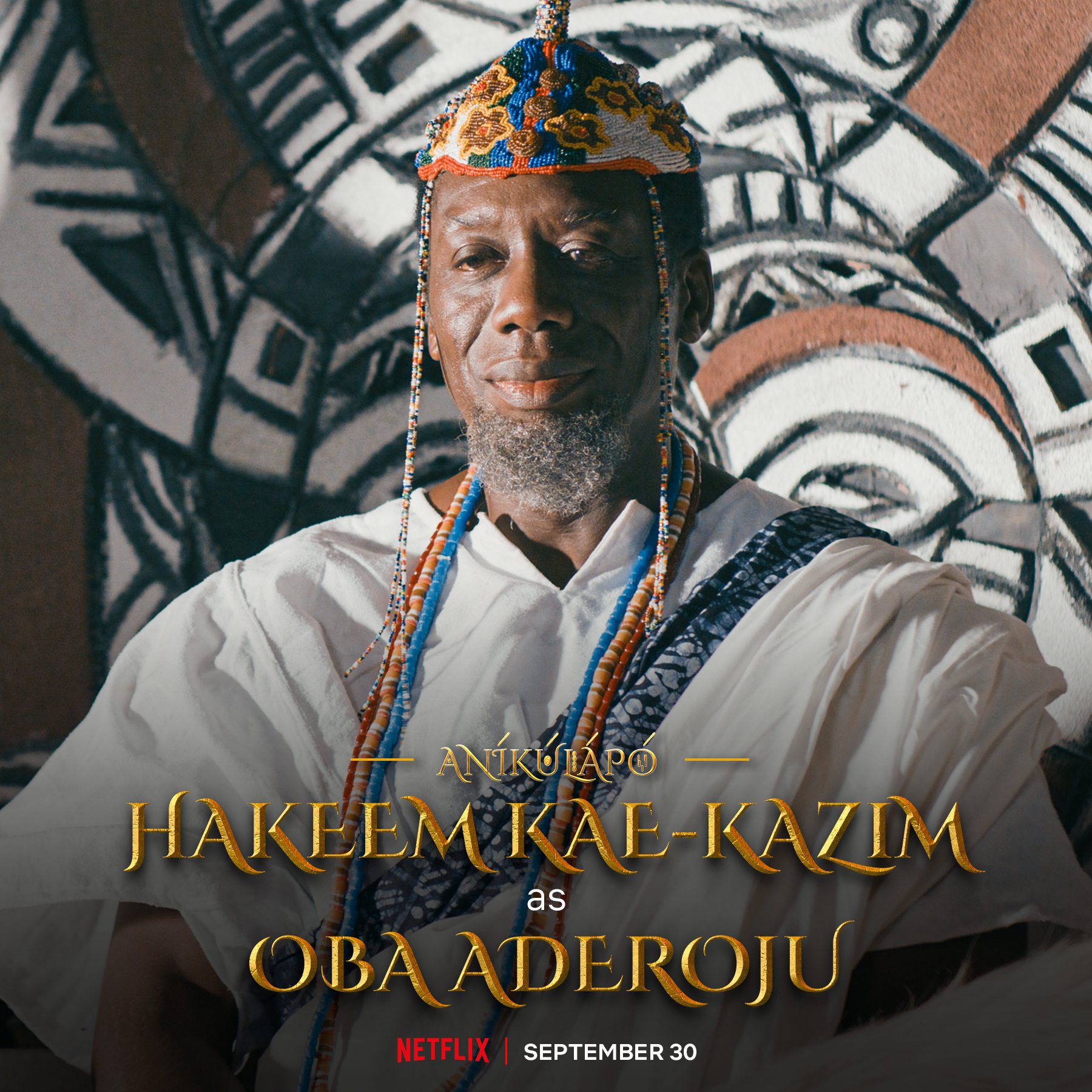 Hakeem Kae Kazeem as Oba Aderoju the Ojumo king did so well too, how beautiful he acted as that powerful mute king. His expression, gesticulations and poise are everything.
THE QUEENS Moji Afolayan as Olori Wojuola, Aisha Lawal and Ronke Ojo as olori agba did a wonderful job! The rivalry was well delivered, and you would think that is who they are in reality.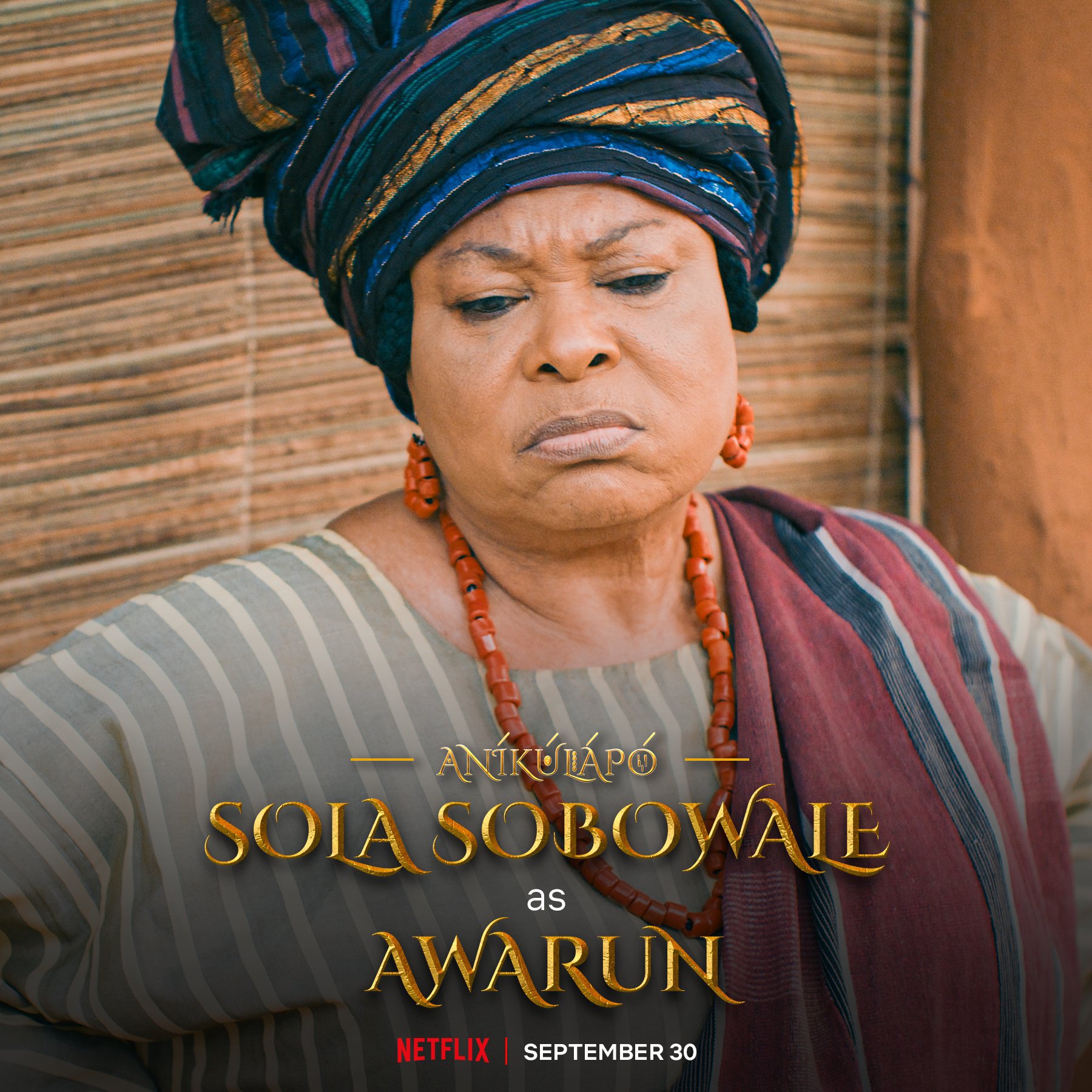 AWARUN: The Sugar mummy, I gave her that because she is a typical sugar mommy in that movie. The rich woman, who left her husband's house and is gracefully sleeping around with young men. Her loyalty is to none. Who else could have done it better if not Sola Sobowale?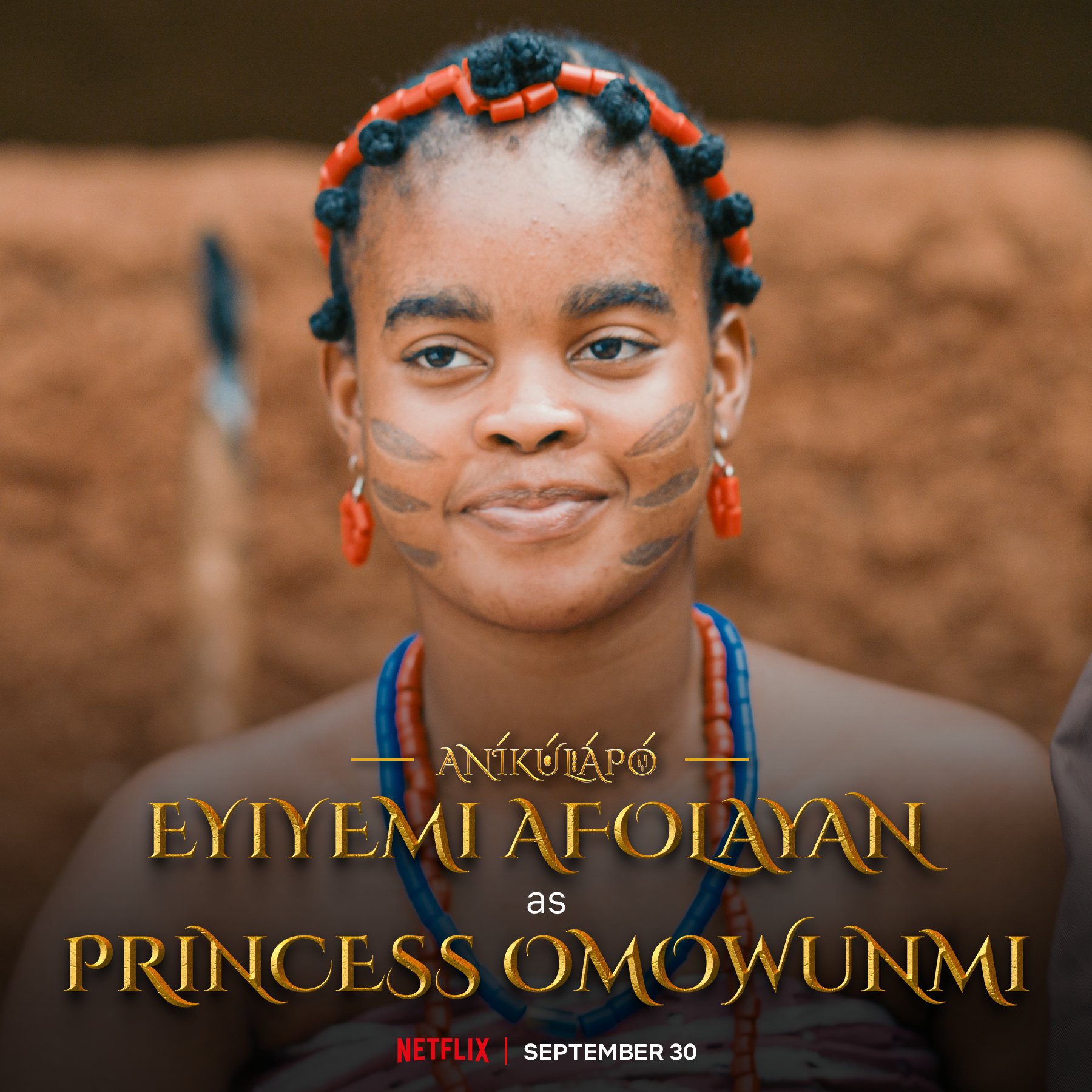 PRINCESS Omowunmi: Eyiyemi Afolayan as Princess Omowunmi also came through with her role, the heartbroken lover girl who was surprisingly betrayed by her crush who doesn't even know her intentions. She perfectly switched from sweetheart to snitch after her heartbreak.
Other characters like the hunter Yinka Quadri, the Ojumo king mouthpiece, the Oyo Mesi, and Debo debowale as a market man all delivered their roles perfectly.
I can't skip the iconic scene where Elesho mocked Baba Fakunle, it was a beautiful comic relief.
Location
I will still talk about the setting here, the mud houses, the forest, the rivers, Oyo town, Market square, Ilu Ojumo, everything came out well and was beautifully created.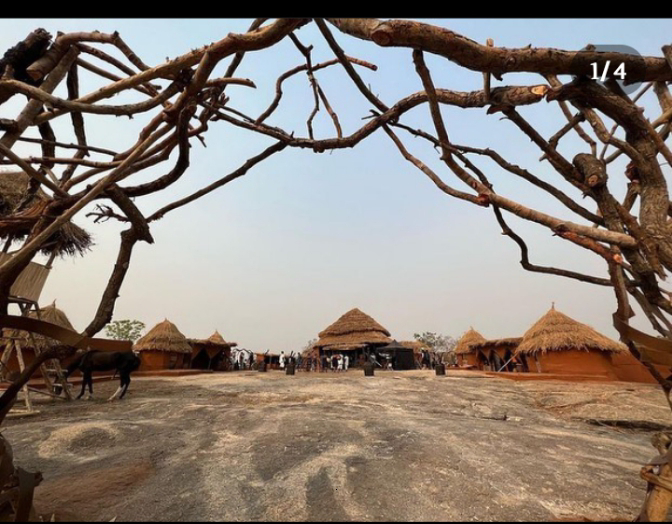 You can tell they built most of these houses for this movie alone.
Language
I love how it is in Yoruba language, it brought out the beauty of the language.
Life Lessons
Discipline : Saro lacks discipline, it is not everyone that showed interest in you that you should go with. His lack of self-discipline is one of the reasons for his fall. What are you doing with the King's wife?
Saro will sleep with anyone ready to go down with him. Disgusting behaviour! Learn to be disciplined, you have conquered a lot if you can control your sexual urge, no matter how tempting it is.
Contentment: Anikulapo lacks contentment! Let's say Omowon was a mistake, how about the younger wife? The princess he's eyeing too, it just shows he's ready to be with hundreds of women if possible.
Arrogance: Before you say I am blaming Saro for everything, I have a fair share for other people too, wait till the end.
I will still blame Saaro for this. He got power and became arrogant, he doesn't have to be that rude to Ojumo King, He is still a King after all.
They needed your help. You didn't have to talk to him anyhow, maybe he would have been spared if he wasn't arrogant and requested the princess.
Arolake Story is sad, It is unfair how the king robbed her of her youth by marrying her at that young age.
Also, the other queens were strongly against her which is understandable because the king prioritises Arolake over others, which is quite unfair to other queens.
But they were extreme with the poison!
However, I wonder why she took the herbs from a strange maid, you do not have a friend in that palace except the King and the Olori Agba.
Why are you drinking something that came from a source you didn't know? Or did she take it intentionally because she is tired of it all? I wonder why.
Arolake despite being a victim did not make the right choice with Saro, you can't rule out that she is a married woman who is having affairs. She also enjoyed the King's favour at some point. She mentioned it too and she had her regrets.
(This is not victim-blaming)
I love the fact that it is not a happy ending movie, the movie will end at a point and I am indifferent about Arolake's last decision, some said she could have run away with the charm and use it as a stepping stone to fame while some said she made the right choice.
Whichever one, It is a 10/10 for me.
MY Call
Anikulapo is a movie you should see, You will enjoy every bit of it. Kunle Afolayan did a great job you will not regret streaming it or watching it at the cinema.
It is available on Netflix and is currently in Cinema.
Worth the time and effort.
What do yo think? Let's meet via the comment section.
Thanks for reading, check my review on Ayinla Ayinla Movie Review
Support this blog and buy Khair a Coffee