love
HOW FAR? OR HOW WELL?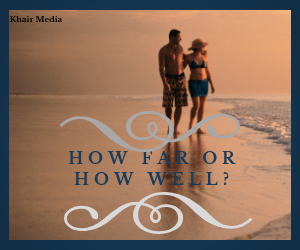 This is a rhetorical question. OK, let's have it in full. Is it how far? Or how well? What is it we are talking about? It is relationship. Talking about relationship, I'm referring to romantic relationship💑.
Today, a lot of people are stuck in an abusive relationship; not willing to get out because they are scared of what people will say.
You have been in this relationship for three years and because of the years you are not ready to opt out. Know one thing ! It is not about how far you have come but it is how well you guys are doing.
The most important thing is not the year but the question is are you happy ☺? Do you deserve what you are going through? If you are not happy, if he/she is not treating you right, don't let anyone take you for granted, don't hesitate to get out of that relationship my dear!
3years, 7 years or even 10years doesn't matter! Don't look at the years, don't tie yourself down! Be happy, free yourself and always have it in mind that relationship is not about how far but it is how well.
Feel free to make comments and send mail. There's no iota of plagiarism in this work.