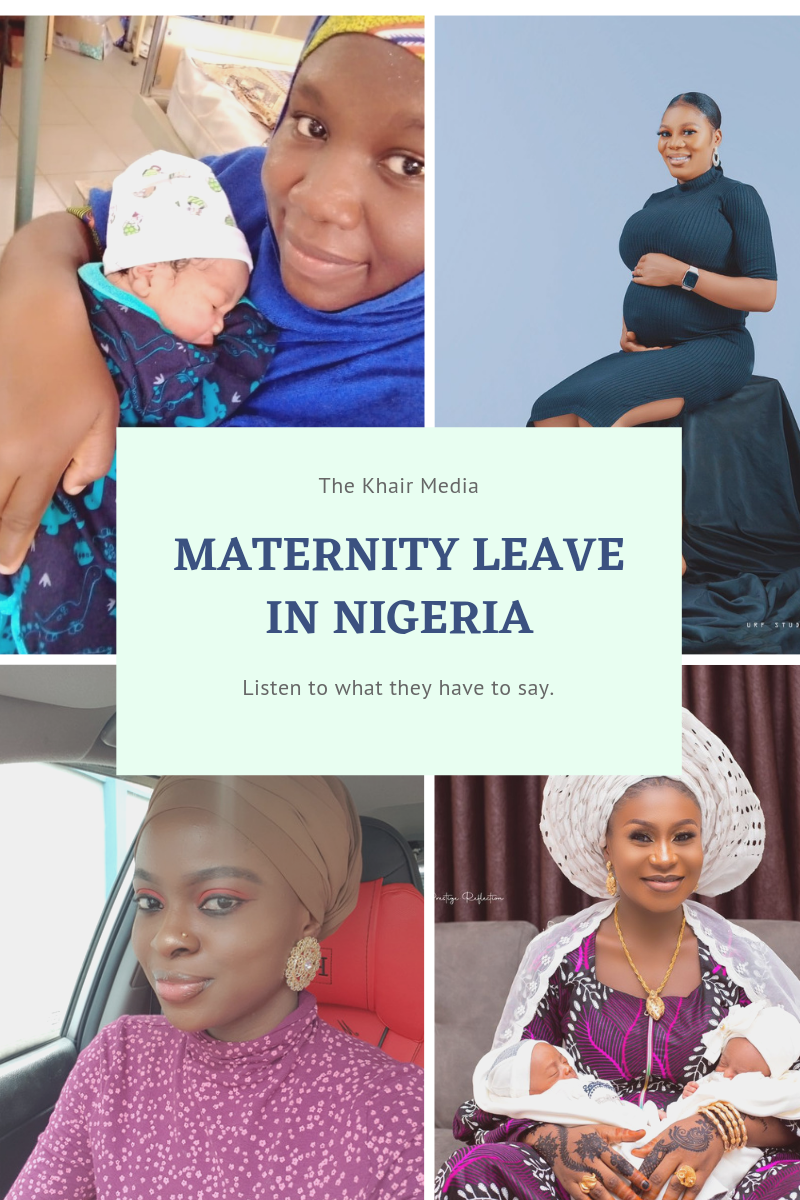 The IWD 2022 theme, according to the UN, is "Break the bias!"However, I will be tilting from the theme to talk about something also important in women's lives. In this blog post, different mothers talked on maternity leave in Nigeria


Happy international women's day, amazing souls, I wish all women there every good thing in life, we deserve it and we should be celebrated every day!


Few days ago, I didn't know what to post here about international women's day, but I got the inspiration after checking Twitter and I saw various tweets talking about maternity leave in Nigeria, and leaving 3 months old baby at a crèche.


What Happened?

I started my journey to know the root of the matter and behold, I saw a tweet about a mother who left her 3 months old baby at the crèche only to come back to meet a dead baby! It is pretty sad, and my heart goes to the woman, I hope she gets all the love and support she needs at this tough moment.
Whew! Trust Twitter with different hot takes, a lot of people were out there with insensitive comments about the woman. I mean she is a victim here; she needs every support at this moment. Here are some of these comments: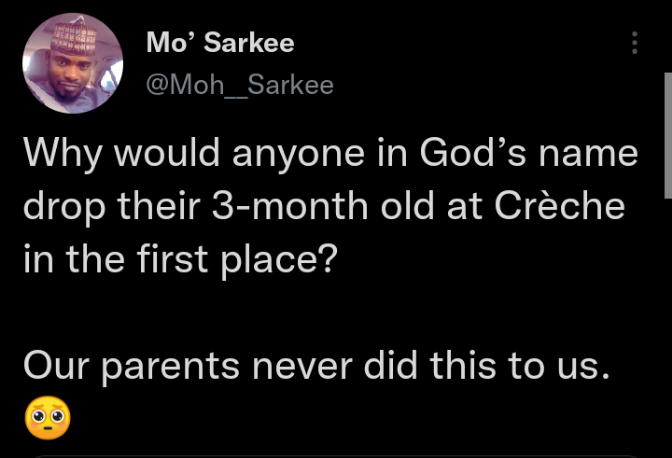 Start counting the number of Owanbes you have attended???, be ready to babysit! So the gallery up there has some insensitive tweets from different netizens about women dropping their child in a creche. Just click on each image to see??.
We are all aware of maternity leave in Nigeria, the highest you can get is 3 months and it is even less in most private sectors; are we saying women should abandon their careers because they have babies? Should we blame women or the system? ?
Women on Twitter were appalled by the ignorant comments from people; even men came out to talk down on these insensitive comments. Here are some of these comments.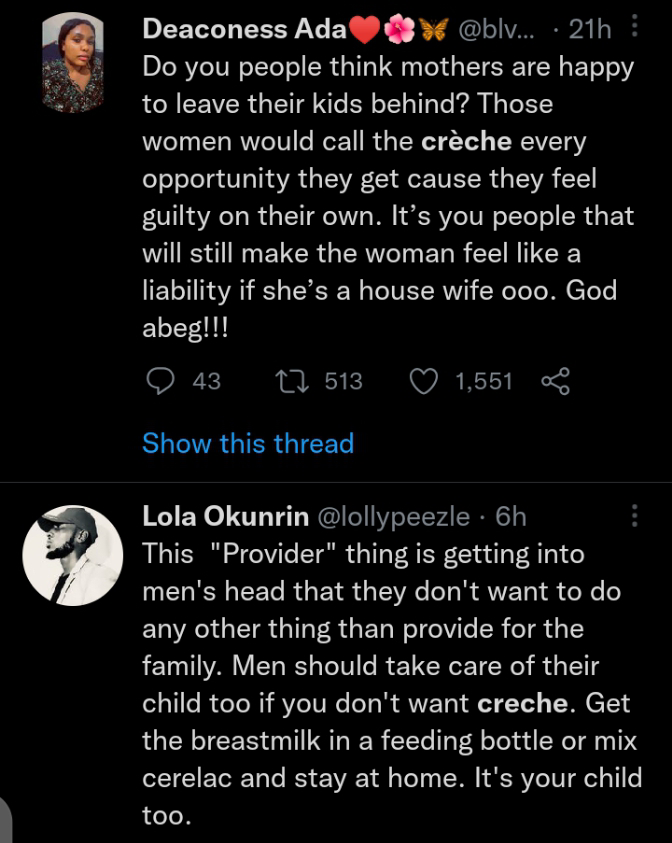 The gallery above contains tweets from netizens who're not pleased with the insensitive comments from people on maternity leave in Nigeria.
So I decided to talk to some mothers to know their stance on maternity leave; to share their experience; after all, they are the major stakeholders! So my own IWD 2022 theme is the voice of mothers on maternity leave in Nigeria
MY IWD 2022 Theme: The Voice of nursing mothers on Maternity Leave in Nigeria
Rihanot❤️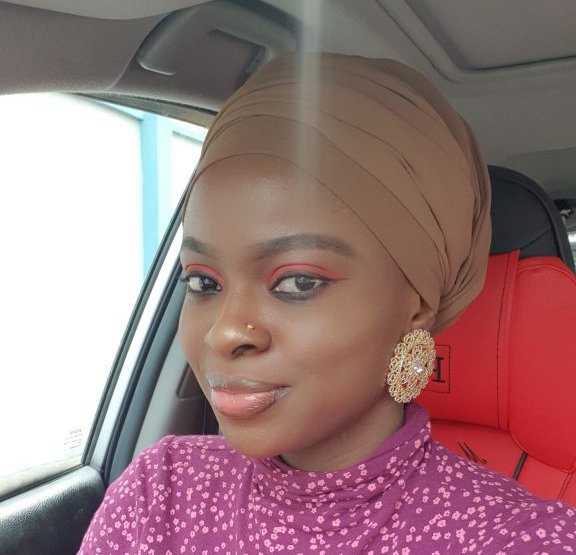 The Experience

"Honestly it wasn't hard for me cos I had my MIL with me all thru after my 1st and and 2nd child


In fact I was very chilled

With my 1st I sometimes forget to breastfeed and I have to be reminded that I haven't breastfed my baby

Maybe cos my son startd taking formula from day 2.

It was easy for me cos MIL was so hand on so I had time for work and there wasn't much tears whenever we seprated."

Do you think 3 months is enough for maternity leave?

"A 3 month old is still a baby and no mom actually gets rest in those 3 months.

I believe 6 -8 months is appropriate

The woman would have heald well and she would also bond with her baby and enjoy the newness and bliss of motherhood."
Hauwa ❤️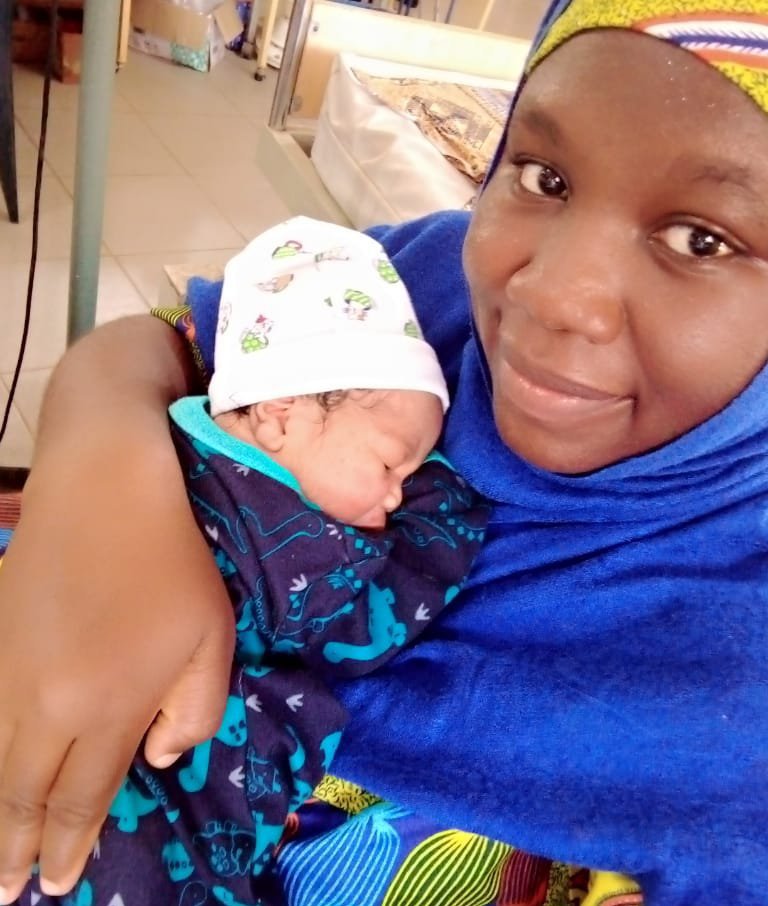 The Experience

"For me,I had to leave work at the beginning of the second trimester because I had fibroid, I never went back to work until my baby was a year and 6months old."

Did you go back to your workplace after this break?

"Had to chance of going back to the former but got a better option, I mean who doesn't want more money?for a job well done???‍♀️."

Were you paid during the leave?

"My initial place of work gives 3 months paid and 3months unpaid, so it's up to the career mother.
But my present place gives 45working days for maternity leave ??
I am not even OK with that"

Do you think 3 months is enough for maternity leave?

" 6 months is fair because u can focus on exclusive breastfeeding for the child to both the mother and child benefit".
Haolat ❤️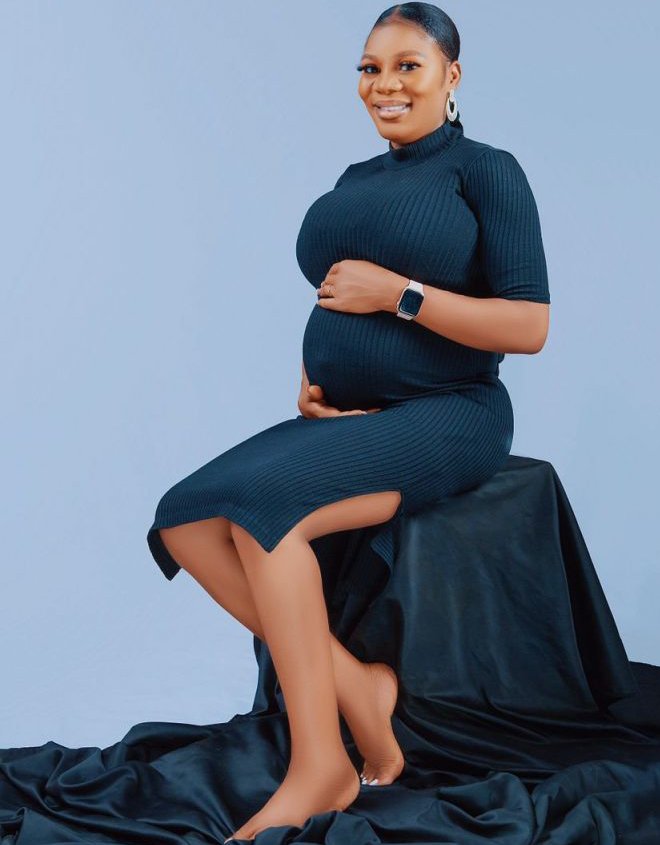 The Experience

"Let me start with, as a female BANKER, U are entitled to 3months maternity leave which isn't enough to raise ur baby to the point that U will deem it fit to leave him/her to the care of any relatives around you.


Typical example is me as a first time mother, my everyday fear ? is that how will I or my baby cope within this short period of time given to raise him and leave him to the care of relatives, many careers women resigned ? their jobs because they can't cope leaving their babies ? of three months under any relatives care.

Though, My own bank ? still give room for another one month as ur usual annual leave but still 4months old baby is too small to leave at home ? since 7am in the morning till 6pm in the evening.

I am still contemplating either to stop the work and concentrate in raising my child ? or resume back and leaving my innocent child in the hand of a relative that I didn't even know her mind towards me talkless of my baby.

My Dear sister, 3 or 4 months leave isn't enough to raise a child, what if the baby has one sickness or the other that maybe a month out of the 3months was spent staying at the hospital ??

3months leave isn't enough and it's not easy to leave a baby of 3months under third party care.?"
Folashade ❤️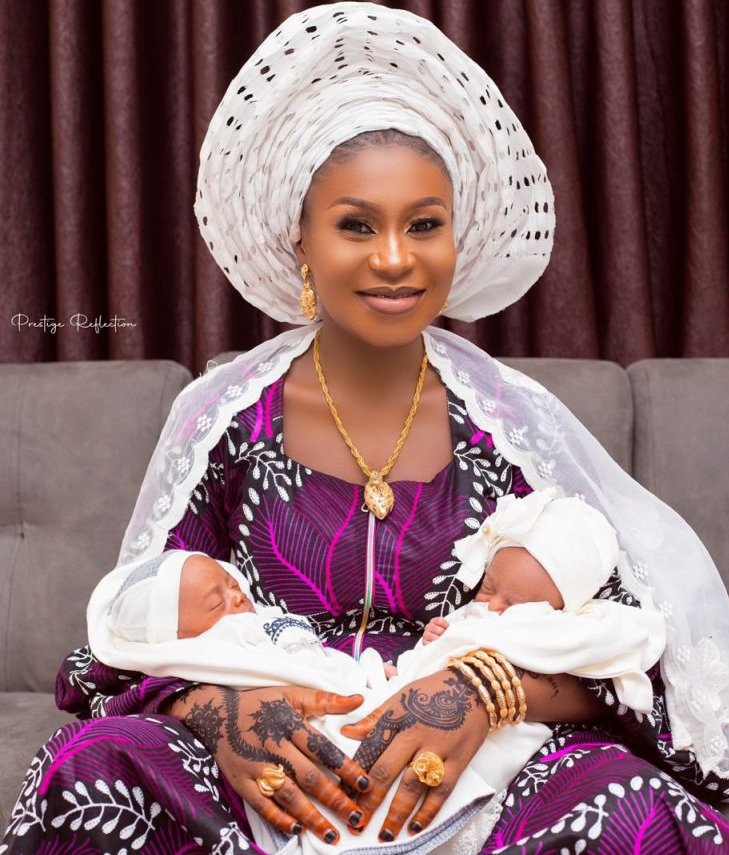 The Experience

"It was not easy, even up till now, it has not been easy at all. When I made up my mind that I would do this, I have to do it because it is important to me. Pregnancy stopped a lot of things but since I made up my mind that my babies would not stop me even though they're twins; it's not like I'm a superwoman but the hunger for success keeps me going."


Do you think 3 months is enough for maternity leave?

"I don't work in corporate firm but 3 months leave is not enough. I can talk about how difficult it is to get back to business."
Busiroh ❤️
I gave birth where I knew no one except my husband and his colleagues at work.

so no one to rely on when it comes to house chores except him, he sweeps, mop, cook, go to market and even fetch water because we were having issues with our borehole at that time he was doing all these and the stress was becoming too much on him.

Thanks to my mother in-law who came and relieved us of the stress.

It was during my internship and there was no maternity leave for interns except one month annual leave, ( 30days). So, my mother in-law came and was helping me to do all things while I rested for the one month.

I managed to cope as a first time mum, which was full of sleepless nights, having to sleep when the baby is sleeping.

So, when she left my mum came to replace her and I resumed work after I had exhausted the one month annual leave.

Due to the state of my mind, psychologically, I was not ready to leave my one month- baby behind while I resumed work; this really affected me that, I was unable to make more than 90ml of breast milk which I expressed for him and it got finished before 10am in the morning.

I resumed to labour ward and the first delivery we took, I started bleeding heavily, it stopped on getting home, the second day the same thing, that they had to take me to staff clinic and I was given 2weeks off but my department didn't accept it so, they gave only one week.

All through my mum was around, she did all the house chores while I went to work, rested and expressed breast milk because my baby was on exclusive breastfeeding.

My mum left when my baby was three months, I went to crèche to ask about it prior to when she left and they said they accept babies from 4months upward so I went to complain to ADNs who went there and implored them to accept my baby.

Meanwhile, they said it on first I must register but that Monday was on 30th, so my husband had to stay at home to care for the baby while I go to work, chai the boy showed him pepper that I had to leave work by 12pm.

The struggle started and that was how I was doing it only that I'm on permanent morning because I had to tell them in every unit the age of my baby before they prepared roaster.

I struggled with the exclusive a lot but I pushed through, during public holiday I would leave the baby at home with my husband when I'm on duty to go to work.

Truth be told, maternity leave ought to last for six months. It will aid bonding between mother and baby and to practice exclusive breastfeeding, it is best to practice rooming in ( i.e mother and baby will be together 24/7).

So, the baby sucks directly from the breast and no need of undergoing the discomfort of expressing breast milk and because the baby's immunity is not yet well developed, they are more likely to contact infection in the crèche from other babies , there is always spread of infection amongst them such as cattarh, skin infections, diarrhea and vomitting but when they are strong enough around six month and above their immune system will be strong a bit and they should be able wade off some of these infections.
Olamide ❤️
The Experience

"It's not easy, I'm a Nurse and I can't take my baby to wards, my husband will go to work too, my mother is a government worker and my mother in-law has her work to attend to.

They helped me but you know they can't totally leave their jobs to attend to me.

The only option is leaving baby at the creche and thankfully, there's one around my work place.

Do you think 3 months is enough for maternity leave?

3month leave is not enough, it will be more better if maternity leave is extended to 6month in private settings and a year in public settings with payment."
QBY❤️
The Experience

" I was outta job for 7months without pay. It was easy for me because I have a capable partner.

I can't say for other mums whose next meal depends on their jobs."

Do you think 3 months is enough for maternity leave?

"In all honesty, maternity leave should be extended

It'll help both the party involved.

A mum whose mind is divided can't give her best to the organization."

Hmmm! Through the bad and the good experience of these mothers, their is one voice, loud and clear! 3 months maternity leave in Nigeria is not enough.
Now you have heard them, would you rather blame these women or amplify their voices, calling for maternity leave extension and for workplaces to accommodate working mothers! We all have a role to play in this situation!
Women shouldn't lose their jobs because of their kids! Omugwo is good but do you realize some people don't have mothers? Even those with mothers, these grandmas have their own lives too; they can't stay with them forever.
To women who are blaming this mother, you should know that your reality doesn't work for everyone; that you had it easy doesn't mean others would, be grateful and pray you don't fall victim to what you are criticizing.


Fathers should also play vital roles in their children's lives and not leave the struggle to their wives alone! How can you help your wife through this motherhood Journey? This is my own IWD 2022 theme!
We need more time for maternity leave in Nigeria!


Thank you for reading, once again Happy International women's Day. Drop your take in the comment section; I will be there with you.
Don't forget to like and share with others, read my previous post ? Body Shaming . Like my Facebook page