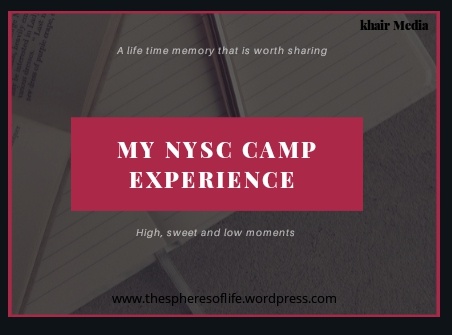 First Day In Camp, what a start!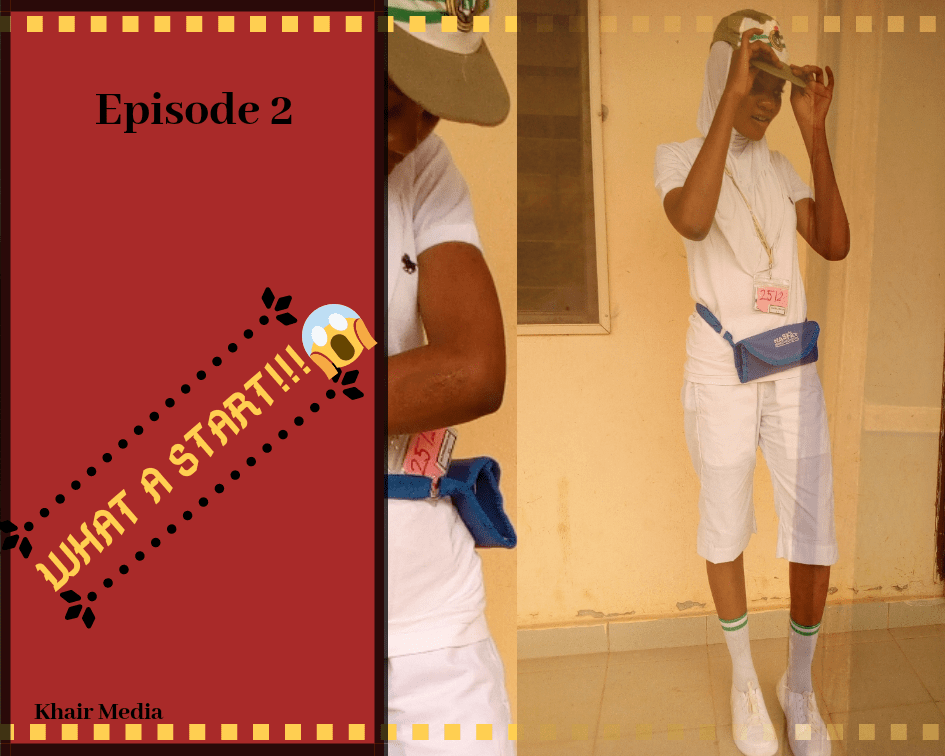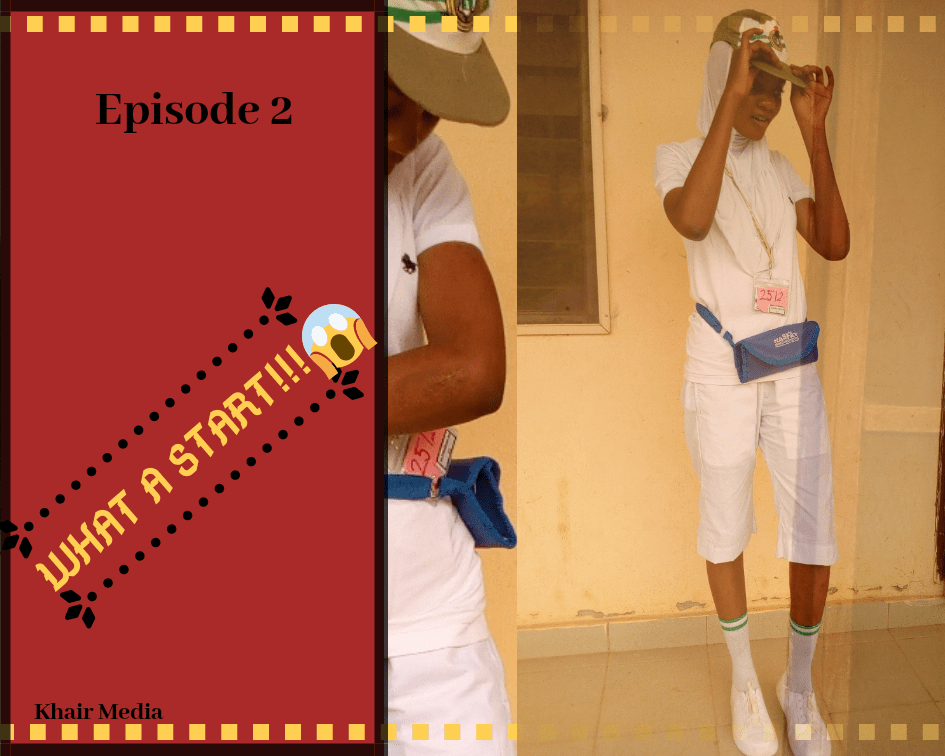 Yeah! what a start ?. This NYSC Experience episode is about my first day in camp.
Through the night, the thought of how the camp will treat me was lingering on my mind till I finally submit myself to nature.
It was a sweet cold morning, momma woke me up so early, I got up and went straight to the bathroom for a warm bath after which I prayed.
As I prepared to leave, I looked at my maxi box with disappointment ?. I had earlier told mum that I wanted a small travel bag but she said a big box would be ok, because my stuff will be in one place.
I dragged the heavy box, to the main road for a bike, Oh lucky me, I found a bus filled with passengers, so I did not wait at all.
I was in a hurry, so I skipped my breakfast, I had heard about how hectic the registration will be so I didn't want to get there late.
About an hour later, I got to Iseyin, but I was not familiar with the location. I asked around for the camp address, then I took a bike, as the bike proceed, my heart started beating heavily, so scared, nervous at the same time anxious.
I was lost in thought that I didn't know how we got to the main entrance
I saw different forces , I saw traders who were already dragging my box for me, before I knew it, I had like 20 business cards.
Until I was left alone to start the sojourn. I entered the campground and I was directed to the checkpoint, the man told me to open my box, I was reluctant because my underwear bag was right at the top.
I opened it, he checked through, then asked if I have a cologne, I didn't want to reply because That cologne is so special, so I firmly said No! I penned my name down under Ogun Corpers' list.
I was directed to the pavilion, as I walked through the rocky road, I was struggling with my box because the road was not smooth enough. Moving forward, I heard a funny sound, I pulled my box then it fell on the ground. It was like a dream, I checked my box only to see that one of the tires has removed ? I looked at my bucket, my bowl is at-large.
Did someone steal my bowl already? I have been hearing about camp thieves but I was not expecting it to be so soon.
"How will I drag this huge bag now?' "How will I ?" It's too early for this!!! Unfortunately, there was no bike nor cab inside the camp. So I carried it with my tiny little hands, as I walked slowly to the pavilion. I got there looking so pale and tired already.
I saw many prospective corps members (PCMs) receiving some kind of lecture from one tall dark man, I wanted to join them but he said I should drop my bag and sit aside. Ohhhhhhh! What is this again??? As I sat down I noticed a pretty fair lady beside me, I said hi and she replied, I wanted to create a conversation but I was too shy, so I was gisting with my mind.
SideNote ( Prospective Corp members is the name used for new corp members, we will be referred to as PCMs until our swearing-in ceremony)
In a short while, we have a number of PCMs with us so the man came and lectured us about the basic things here and introduced us to U-report .
After which he directed a Man O War lady to lead us to the registration point, and then my tension began again.
We were told to be on a single line with our loads. I saw people pulling their boxes easily alas! I had to carry mine, I have a bucket in my left hand and my box in the right.
Fortunately for me, one woman came like an angel, she helped me with my box ?. I was so excited and I started walking like a runway model, like one free soul.
We got to the first point, we were told to register for accommodation, I had earlier picked a number at the gate "31" which I showed them, then I was told to pick one paper, I checked it and I saw OLUBADAN hostel (how will this hostel look?) so many questions lingering on my mind.
At that point I was already seeing people on their white ? so they came as early as 5 am? The Lord is their strength " I can't wait to put on mine as well so this people won't feel they are superior.
Anyway?, We were led to the hostel, oh! Not to worry! That woman was still by my side. Then we got to the hostel, she gave my box back to me. My heart skipped a beat because I don't know what she will collect from me ? well she can't just carry that bag without anything in return, so she smiled and said, call me for your laundry ? I collected her number.
Wait! there was a woman at the gate who gave me her laundry card. She was my first customer, who will I call? Well, we will get to that.
The hostel was not bad, kind of fine contrary to the rumours I've heard. We were given our bed space, I got the up bunk with one sick looking bed ?. I quickly changed the bed to a nice soft one, lol, everyone else started changing their after I did that ?.
After placing my bed, I opened my box spread my bedsheet beautifully, then I brought out my file and mosquito net. I checked my bunk mate and yippee ? it's that beautiful lady under the pavilion.
I said hi bunkie, I'm Aderonke Lawal, what's your name? She said Aminah. she was about to fix her net which I quickly helped her with, for I need to create a nice relationship with my bunkmate.
I locked my box, then I set out for registration, my bunkmate was deployed to Oyo so we would be treading a different path for registration.
REGISTRATION STARTS! (First Day In Camp)
The first dilemma at the registration point was that I don't know where to go first ? (No guideline for the order) .
I was walking up and down, at each point, they will tell me I needed to be in another place, there should be a guide for this ?, I got to the ICT, I did thumbprinting and the man gave me one slip with a stern face, he was not friendly at all so I couldn't ask for the next step,
I saw a long queue which I joined, the next question I was asked was " are you pregnant " I said no with a very confused tone, and the woman said, you are not meant to be here ?. Where do I go to now?
I left the queue, I don't know how I got to the medical clearance point, I tendered my medical fitness certificate and I was cleared. I went to the spot for Ogun state, I was given a file to put my Statement of Result, the clearance slip from ICT, call up letter and some other forms that came with the file.
So I filled them accordingly, I was so careful not to make any silly mistake, so I took my file to the man, I got my code card, my code number OG/18C/***2. Since my number ends with 2, that means I'm in Platoon 2.
The man collected my file arranged for me and he told me to go fill the book of life, which I did,I was told to go and register at a bank spot , so fate brought access bank to me, I filled the form attached my passport and I left the place.
The man in charge told me to go for my kit. Yassssss ?we are getting there ?. I was told to find platoon 2 stand for my kit . Oh not again ?what is wrong with these people? I've never been here, be nice and direct me to where I'm going, not telling me to find it?. Well, I did find it, I saw one of our platoon inspectors who asked me "what can you do for our platoon " I said I can talk ?. He looked at me with one weird expression like what's this one saying? Lol ? they didn't know that talk is not cheap ?.
I was given my kits, he didn't even ask for my size, he just gave me, A jacket, trousers, belt, jungle boots, NYSC crested vest, a cap, white sneakers, two white shorts, two white vests and two pairs of socks.
I dashed to my hostel to check it??? , Too bad ?,my trouser came inform of palazo, my white sneakers are unnecessarily big and dirty ? my jungle boot and jacket was the only item I preferred, my short knickers were just tooo short. I have long legs… What's all these now? So I wore my own knickers which I brought from home, plus the white shirt, socks, White rubber sneakers, my Hijab and my NYSC cap, oh I didn't forget the waist pouch. I have a blue unique own.
Note: I came with extra knickers, white shoes, shirt and socks from home.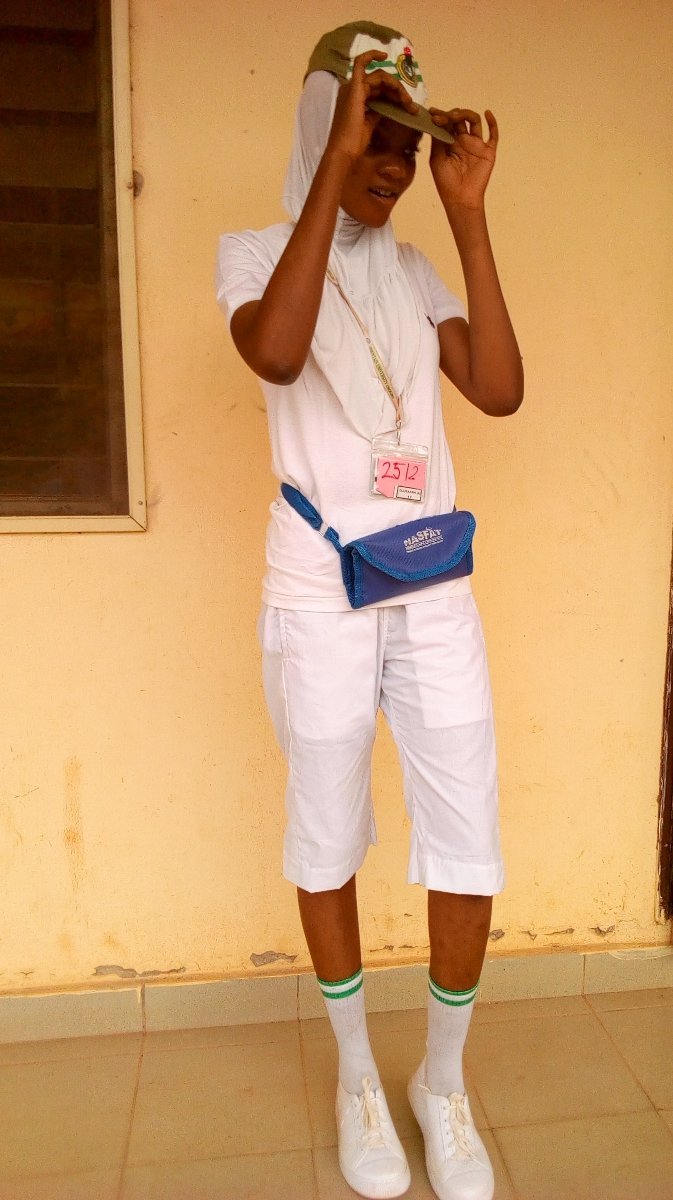 After all the registration process, I called Dad and everyone that I've done the needful
Mami Market / Lunch
I stepped out feeling fly ? so I asked a girl to take my pictures that I will snap her in return. One of the pictures was used as the cover picture for this episode ?.
I had nothing to do outside, but I just want to walk around with my white, so I was walking like one superstar, going towards a direction where I saw many people going, that must be the popular mami market.
As I proceeded to that direction, one Man O war called me, she said "Alhaja, you don't want to follow our rules abi, the only thing from your outfit that is from us is the cap " I tried to explain to her that, I just can't wear their kits for now . She told me to go that, she will catch me later ?.
I left for mami, everywhere was bubbling, I have many cards with me, many people dragging me to their various stands, I picked one place at last where I order for a plate of Jollof rice, #300 plus meat and plantain. I couldn't finish the rice so I went back to the hostel with a bottle of chilled Nutri milk.
On getting to the hostel I had my first experience of the beagle. That was my first time of hearing the beagle paran ran paran ran paran paran paran papa,
[wpvideo zG1CGv5E data-temp-aztec-id="51d88f65-ca51-49c3-b224-a22c94d553cd"]
The sound of the beagle
we were told to go for lunch, oh… I was given a meal ticket at the registration point.
I didn't go for the first meal. I was chilling on my bed, my bed space was at the door so I was looking at each new Prospective corp member coming in, I saw my course mate, Summonu coming in, that was like seeing your relative in a strangers land.
That was where I was until I heard the beagle again, we were sent out to the parade ground. The soldier was looking so scary while saying "if you are walking, you are wrong " double up!!! That was how "our never right" journey started.
PARADE ON THE FIRST DAY IN CAMP?
I joined some sect of people, so they told us to stand at ease. Numbers of soldiers were standing in front of us, they told us we can't address ourselves as Corps Members until our swear in ceremony, so we were addressed as Prospective Corps Members (PCMs) ?.
While standing, one of the soldiers said, "if you know, you are tall, step outside " I know I'm tall, but I didn't want to go ?. Then one soldier told me, I look fragile and that I should stay where I was.
They started looking around, when one of them came towards my direction, I was already in a different land of scary thoughts, he said to me with a loud husky voice "you! are you not tall? You are short bah? " I replied in a pitiful tone "I'm not sure " stylishly looking for the other soldier, alas! He was at large so I joined the tall PCMs.
We were divided into groups. My group was taken to the rear part of the field (My bunkie is part of this group ? ) , they said we are the Quarter Guards but, throughout that day I thought it was "water Guard " so funny.
One soldier came to us and introduced himself as the Quarter Guards commandant ?. His name is Umaru… He said his nickname is Yaro.
So we started our training from "priet, parade shun! Stand at ease, stand easy, quick match time and halt". I have to memorize all these to survive there, we did this from 3:30 till 6:30 (the first day) my white has changed to brown ? my socks and everything.
At 6pm on the dot, we were all ordered to stand at shun, because our dear country Nigeria wants to sleep; two soldiers marched to the flag to bring it down while the beagle was being blown all through the process.
The beagle was blown again for meal . We went for dinner by 7:00. The food taste good, white rice and meat with a nice stew.
We slept earlier the very first day. Light out by 10:00pm, so we were told to go to bed ?. I chat for a while and I slept off.
While enjoy my beautiful night rest after a long day, I suddenly woke up with some funny sounds of foot steps?. People were taking their bath already, I checked the time it was 2:00 am, oh no! my phone must not be working perfectly! I asked a girl for the time But she said 2:00. What is their problems now?
They should let me sleep in peace ? , I tried to sleep but I couldn't! I must have chosen the wrong room, these people are not normal, after this long day? I can't sleep in peace?
I had earlier set my alarm to 4am, so I managed to sleep again and I woke up to have my bath (alarm) , I put on my white to go back to bed again when I heard the annoying beagle ??? paran paran paran papa …
That's about my first day in camp, Watch out for episode 3 How will I wear my palazzo trouser? How will I cope with the regimented life.
Read the next episode here Episode 3 read the previous episode Episode 1
These new episodes will " Not be sequential, I will pick different part of camp and gist you about it, The quarter Guard, the OBS, The lectures, The SAED, The social Nights, platoon 2, People that I met and all. Don't worry, I will gist you in a short, precise and interesting way. Thanks for stopping by . Like comment and tell a friend to tell a friend ?
Support this blog and buy me a coffee