Can you relate? Are you angry as I am? Because how will I go through a long process of Job application without getting a response? Employers Ghosting Candidates has been a thing in Nigeria and it's annoying!
Hello guys?! It is good to be here again and today, I'm here to rant about job application in Nigeria and employers ghosting Job Applicants.

You know, after taking a break from this Vox-pop style of a blog post, the last one I did, made me realize how much I love it!
So I will be doing it more often now although it requires extra work, I love it!

Today, I will still take you back to Twitter, I saw a tweet on how employers ghost job applicants after going through the stress of applying and it resonated with me and I guess you too.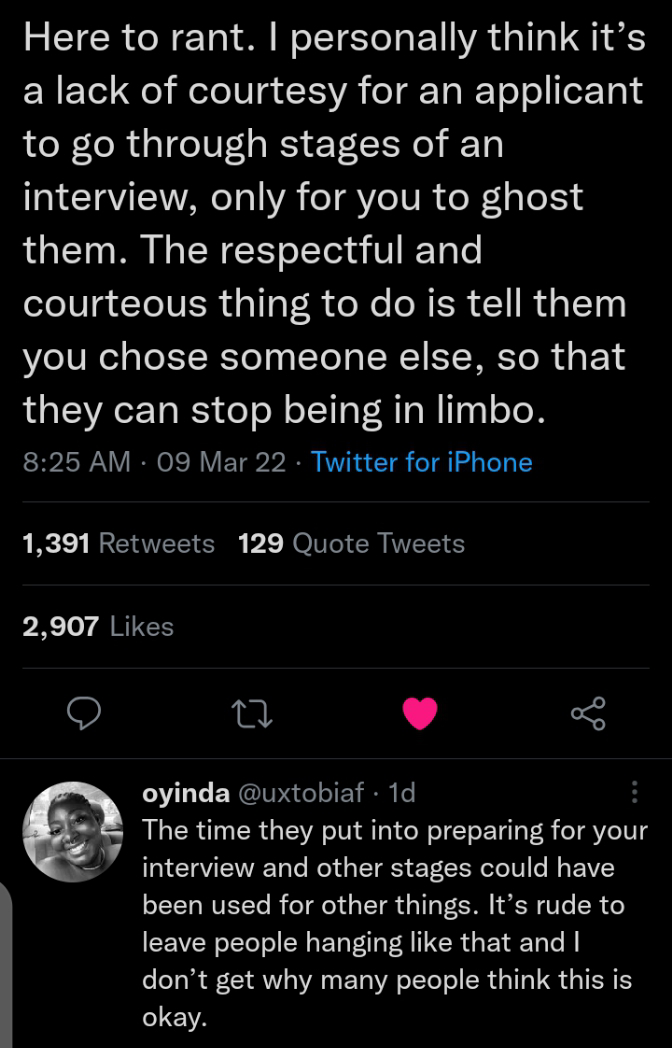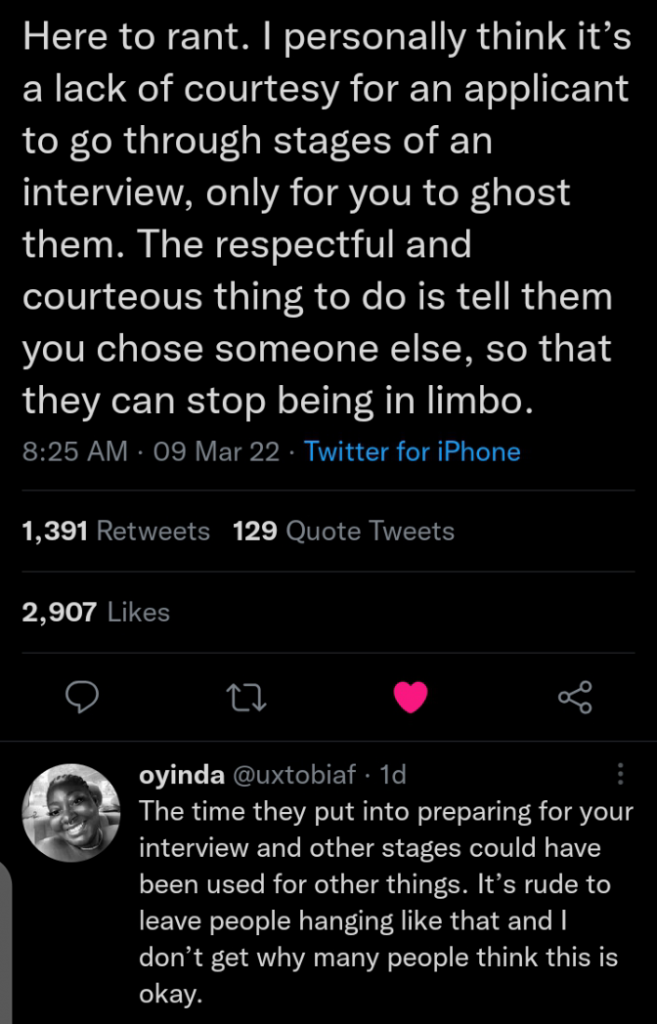 So I reminisced about different job applications that I've sent out with no proper response from the organization. It is really annoying and I even said something similar earlier this year.


Yes! I prefer rejection mail to silence, silence is insensitive and irresponsible, and employers should do well and get back to everyone, so we can move on!
Some will even get back to you after months or a year! But you made it look like you needed someone immediately ?. This is another level of pain but employers ghosting job applicants is still the worst ?.
The most painful one was a writing gig, we were given a topic to write about.
I did my best and even gave it out for editing and these people didn't say anything, I reached out to them after a while and these people aired me. I really felt bad!?

I still have others but moving on from me, here is what people have to say about this.
People's Experience With
Ghosting
Aisha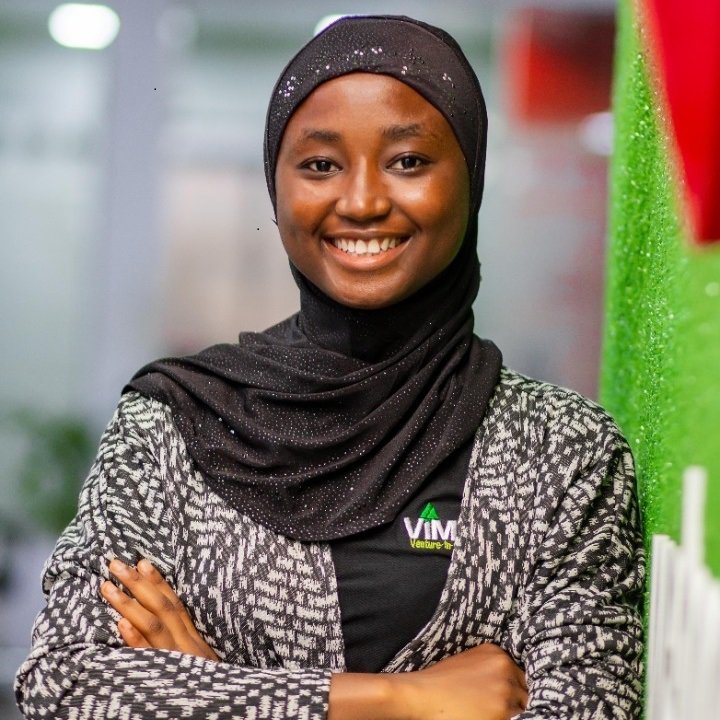 "My name is Aishat Abubakar. I am a recent graduate of Mass Communication but my painful experience with some organizations during job applications has been right from being an undergraduate but I didn't pay much attention to it because I felt I wasn't qualified yet for those roles.

Not until, that was when I knew some organizations actually just leave applicants hanging after some recruitment process without final communication.


My first experience was with COMPANY A, whom I comprised my undergraduate final year brouhaha for in order to go through their aptitude test, interview, real-life problem task and another interview but got no response afterwards.

I was hoping to get a job immediately after school but when I didn't get a response from them even after I sent a followup mail, my hope was dashed. COMPANY B came along and they weren't different from COMPANY A.

I sent in my portfolio and had a couple of interviews but they went MIA. COMPANY B called few weeks later to ask when I would like to resume. This steered my excitement but that was the last time I heard from them.


There is COMPANY C as well. COMPANY C came in friendly and we had recruitment "chats" almost every 3 days but I stopped hearing from them when I informed them I will be going for 3 weeks NYSC camp.

Once again, my excitement dipped. Not just because I didn't get a response but they had raised my hope too high with our frequent interviews. Maybe COMPANY D is slightly different because they got back like 2 months after writing an aptitude test but it delayed other career decisions I had to make.

There is also COMPANY E who is a reputable pan-African company. I received a call from them and it felt like a miracle. Not until getting an official interview invite took longer than usual. At the end of day, I got to know that they won't be going on with me anymore because I'm a Corp member.

Ouch! Few weeks after, I got an interview invite and a marketing task to be submitted and presented. I did all of these and they went MIA again. It's been 2 months and counting but I guess I have learnt that some things aren't just meant for you.


These experiences were really hurtful and made me question my self esteem, coupled with the fact that I was getting rejection mails on the other hand. At some point, it was difficult to make certain decisions but I learnt in the hard way that what you have at hand is what is more valuable. "

Employers Ghosting Job Applicants
PengWriter ✍️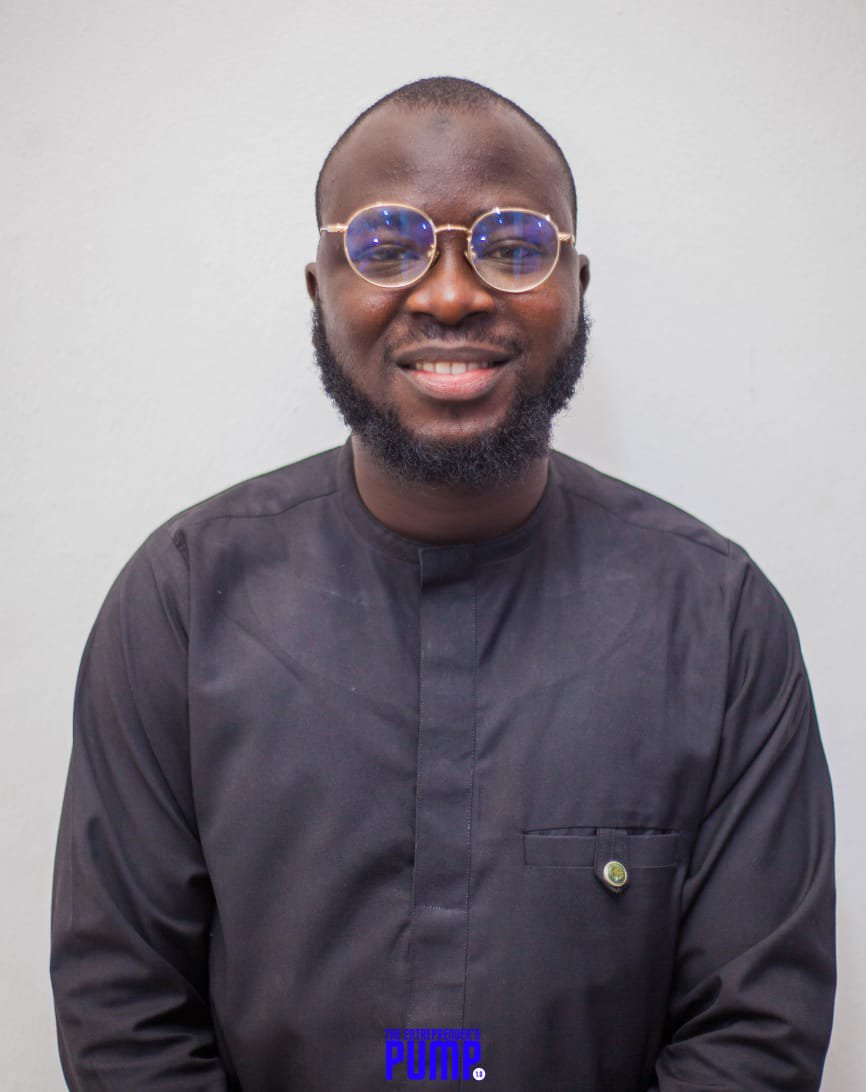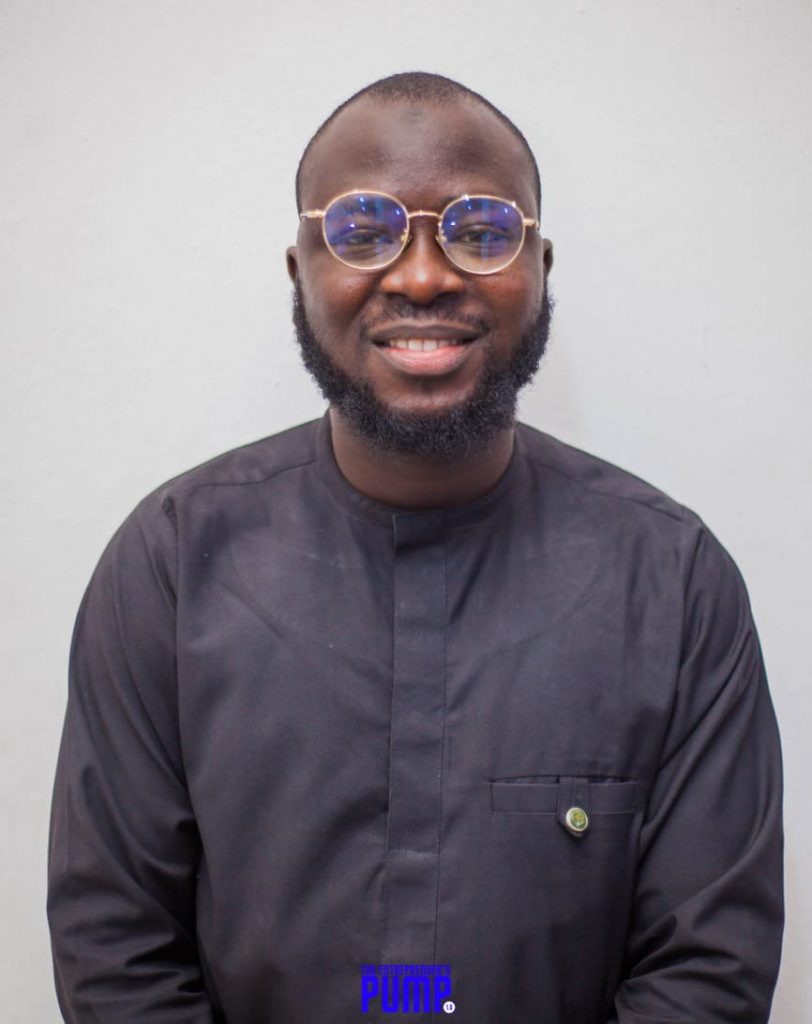 I applied to be a social media manager for PlayerEMT (not original name) earlier in the month. After reaching out to them and submitting what was required, I just stopped getting messages from them.

Like PlayerEMT, there are others too. The feeling is heartbreaking. For some of us with anxiety and self esteem issues, we start doubting ourselves over again and end up slipping into imposter syndrome.

I think it's irresponsible to seek for applications and not reach out to people back.

Job application in Nigeria
Ayomide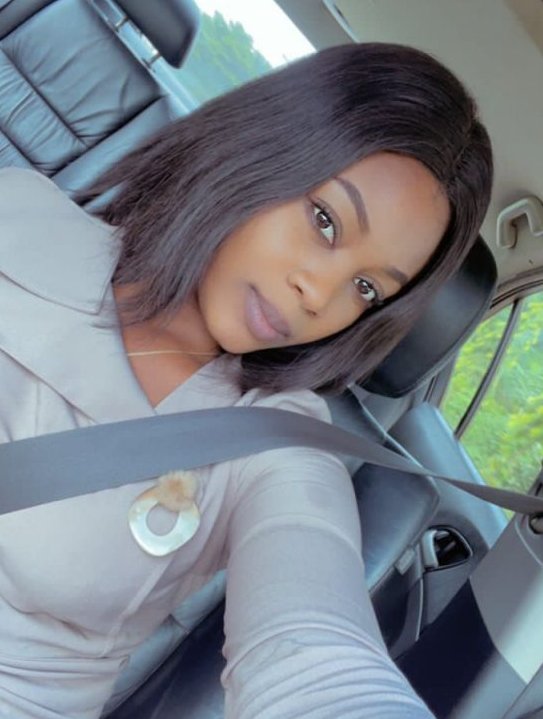 "I applied for the role of Bank assurance in 2015 after my NYSC.


I was called upon for an Aptitude Test, I did the test with other applicants.Days after, I got a notification that I passed the test and I've been moved to the next stage of the application, which was an interview.

I went for it, days after, I got another notification for another test and this time, it was a core sales test. I prepared and went for it.

I passed it and got to the last stage of final interview with the management. I prepared and went for it.

Unlike the previous processes, they didn't get back to me until after 4months to come to pick up my appointment letter.

But I already got another offer somewhere else, I had even forgotten about them"

(Employers Ghosting Job Applicants)
Dovi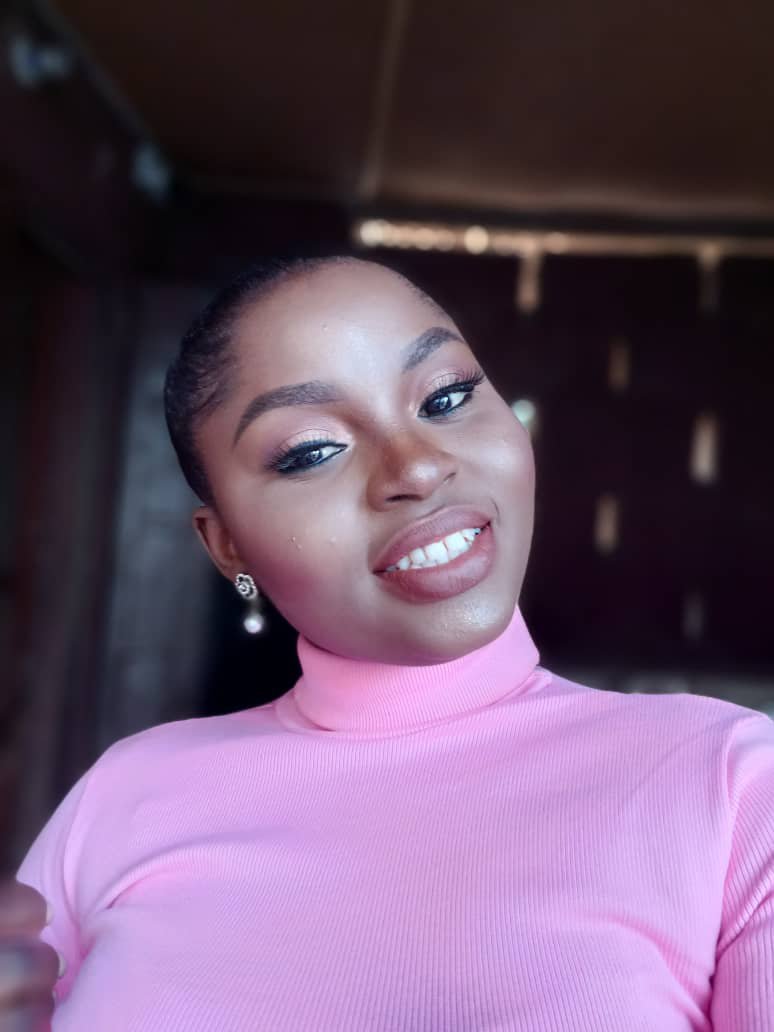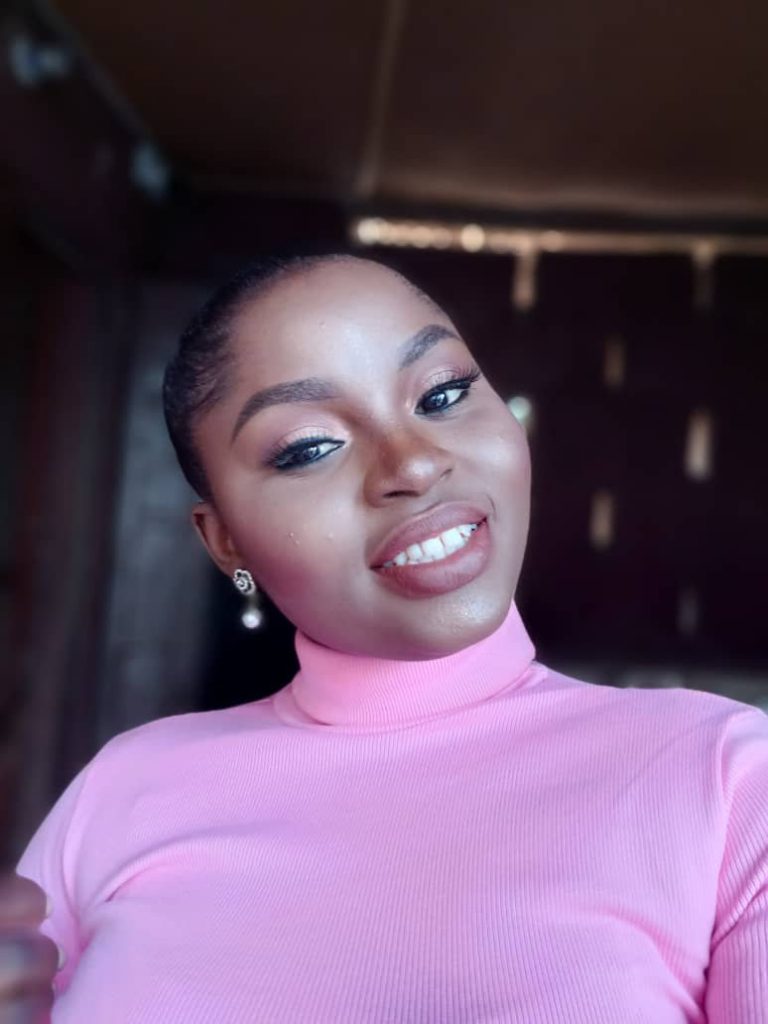 "Applying for jobs in Nigeria, especially in Lagos, is a long and stressful process. The least these employers can do is compensate this stress with a feedback.

Once I applied as a customer care representative to a sewage company, I got the contact through a friend who knew the owner of the business.

After going through virtual assessment process due to covid1, I was invited to their office for a chat and practical test. I left the mainland very early and arrived almost in time.

After the chat, test and all. He seemed impressed and I was really optimistic. I haven't heard from them till date.

I still feel like asking my friend if there was any mention of me or what I did wrong.

A 2nd nasty experience is when I applied for a job in March 2020, I was invited for test around February 2021 and eventually, interview in November.

I really hoped to get this job because it was an airline company and the exposure it would bring.

They eventually called and gave me a condition to resume immediately and be on probation even though I had stated clearly in the pre employment form I filled during the interview that I must give my current employer 2weeks notice.

I couldn't even risk it because the job was not guaranteed and no favourable contract had been discussed. This was their excuse for not employing me."
Mojeed

"To be honest, I don't think I have ever applied for a job after graduation (Most of the job I do is freelancing). Though, I did during my search for SIWES placement which is to begin after ND 1.

The Story;
After our first semester break, we were given SIWES letter to get a placement.

To be honest, the search was very intense, which I later got one so I wasn't really bothered about other rejection. But one of the applications that really caught my attention was one firm around Yaba.

We (My friend and I) submitted our application letters and was told to wait for an interview immediately.

The principal partner came over to ask some complex Architectural questions, It was so funny that he was asking students who has barely spent 6months into the course, He asked about some software too, we told him we have only spent one semester and we felt the firm would be an avenue for us to learn.

To cut the story short, The man was so disappointed in us, which we could tell from his words.

We were chased out of the firm by the man because we were just looking at him as he was asking what we have never heard. We felt so embarrassed and ashamed.

Alhamdullahi, those words really pushed us to learn more and never wait to get all information from our teacher since we can always learn on our own.

P.S: I really don't apply for jobs, Not because I don't want to, but I don't believe in being tie down to meet someone demand, except I would be given the freedom to do the job anywhere, deliver within stipulated time and have an agreed days on when I should be at the office.

I know it is difficult to get that. So, I have been doing my freelancing jeje."
Job application in Nigeria is somehow!

Employers need to do better, it is very bad and disappointing. This is kind of peculiar to Nigeria because you mostly get response from foreigners.
What is hard in getting back to people? Some people even waste money on transportation and let's not even talk about organizations that will make you fill every detail on your CV despite having a copy.

Employers need to start seeing people as someone they want to have a deal with, not someone they want to help.

Not getting a response can really mess up your self esteem but let me tell you; It is not that you are bad or you are not good enough, they are the bad ones with poor logistics! They can do better.

At a point, you will lose interest in applying for jobs or anything but I hope you find the strength to keep applying.

Do you have a similar experience or something to say? Kindly drop your comment, trust me to reply to everyone! Stay blessed.
Thank you for reading! This is part 1 of Job application in Nigeria, and It is about employers ghosting job applicants. I have another version coming up and you can reach out if you want to feature.
Read my previous post MATERNITY LEAVE IN NIGERIA
Don't sleep on Jumia's Tech week sales! They are currently running a massive sales with huge discount! This is the best time to get your gadgets! Click this ? Jumia Tech sales